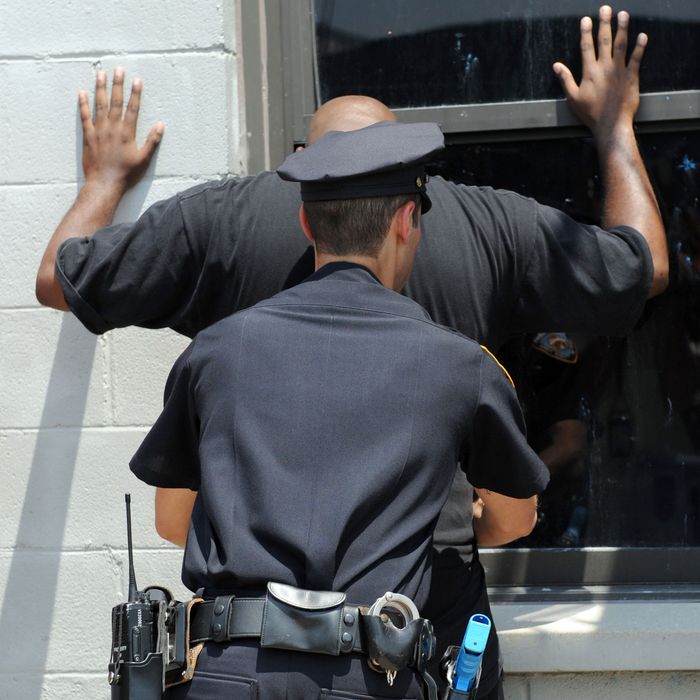 Photo: Bonifacio/NY Daily News via Getty Images
Stop-and-frisk is back in the news, thanks to Donald Trump. Earlier this week, as the nation watched protests and rioting erupt in Charlotte following the police killing of Keith Lamont Scott, Trump put on an "African-American town hall" in Chicago — hosted by Sean Hannity and attended by a mostly white audience — in which he advocated for the policy of stop-and-frisk (it sounded at first like he meant in the whole country, but the campaign later clarified that he just meant in Chicago).
Stop-and-frisk isn't as well-defined as many people think, but it essentially means a policing strategy in which officers regularly stop and question people on the street, often searching them for drugs or weapons. Courts have held that officers have wide leeway to do this, even in the absence of anything the average person would find all that suspicious. The New York Police Department has long been the epicenter of stop-and-frisk, but in 2013, a federal court found the practice unconstitutional, and the NYPD has agreed to make reforms.
Naturally, Trump's suggestion generated anger. For years, civil-rights and community advocates had complained that stop-and-frisk had effectively turned some neighborhoods — usually poor and nonwhite ones — into occupied territories rife with unnecessary, tense interactions between neighborhood residents and the police. And while the data are noisy, the case for stop-and-frisk "working" in any real sense is shaky. As Max Ehrenfreund noted yesterday, yes, the peak stop-and-frisk era in New York coincided with a long decline in crime, but that reduction was part of a nationwide trend, and New York has continued to get less violent since stop-and-frisk was outlawed. (It is the case, as I'll discuss below, that certain policing techniques which might bear a superficial resemblance to stop-and-frisk are backed by evidence, but the differences matter.)
It's important to fully understand the bad taste stop-and-frisk left in many people's mouths, because this is a psychological issue: It affected how people lived their lives, the extent to which they felt comfortable simply hanging out in their own neighborhoods, and — perhaps most important, from a policy perspective — their trust in and willingness to help the police. Sometimes, though, individual experiences get washed out of the conversation, and there's a tendency to debate stop-and-frisk at a fairly zoomed-out level: There is this switch called stop-and-frisk you can flip on or off, at which point you watch a graph called "the crime rate" rise or fall and debate whether the switch and the graph are causally connected. It all tends to be abstract and statistical.
As NPR's Gene Demby pointed out on Twitter earlier, though, all this looks a lot different to the people being stopped and frisked:
That New York Times article is a good example. Published in 2010, it explains, with the use of NYPD data, what stop-and-frisk looked like in Brownsville, Brooklyn. Crime is hugely down in New York relative to much of the second half of the 20th century, but Brownsville, it should be said, often ranks among the more dangerous neighborhoods in the city at the moment — there was a rather heartbreaking 2014 New York story about gang violence involving young kids there.
The city responded to Brownsville's crime problem, in part, by flooding the area with cops who were instructed to act in a very assertive manner:
The officers stop people they think might be carrying guns; they stop and question people who merely enter the public housing project buildings without a key; they ask for identification from, and run warrant checks on, young people halted for riding bicycles on the sidewalk.

These encounters amounted to nearly one stop a year for every one of the 14,000 residents of these blocks. In some instances, people were stopped because the police said they fit the description of a suspect. But the data show that fewer than 9 percent of stops were made based on "fit description." Far more — nearly 26,000 times — the police listed either "furtive movement," a catch-all category that critics say can mean anything, or "other" as the only reason for the stop. Many of the stops, the data show, were driven by the police's ability to enforce seemingly minor violations of rules governing who can come and go in the city's public housing.

The encounters — most urgently meant to get guns off the streets — yield few arrests. Across the city, 6 percent of stops result in arrests. In these roughly eight square blocks of Brownsville, the arrest rate is less than 1 percent. The 13,200 stops the police made in this neighborhood last year resulted in arrests of 109 people. In the more than 50,000 stops since 2006, the police recovered 25 guns.
For a subset of the area's residents, stop-and-frisk meant a seemingly never-ending stream of police stops, some of them a bit over-the-top. One evening, for example, "20 officers surrounded a man outside the Brownsville Houses after he would not let an officer smell the contents of his orange juice container." Citizens who were just trying to live their lives had to adjust. "Young black men get stopped so often that a few years ago, Gus Cyrus, coach of the football team at nearby Thomas Jefferson High School, started letting his players leave practice with their bright orange helmets so the police would not confuse them with gang members," the article notes.
And while maybe these stops didn't often lead to arrests, sometimes they did, and sometimes those arrests were questionable. In fact, the NYPD has built itself an abysmal recent record of throwing people in jail for little or no reason. Now, stop-and-frisk bleeds into other policing practices here, a bit, but it's all part of the same ethos of aggressively seeking out and punishing minor violations (though often under the pretense that what cops really want to do is find guns and drugs). The cases can be truly mind-boggling.
Here, for example, is a story about a man in Crown Heights getting arrested for possession … of a straw for his soda. And here's one about a guy named William D. Peppers who fell asleep on an empty, early-morning subway car on his way to work at a bakery in the Bronx and was woken up by a police officer: "Mr. Peppers had put his feet up on a subway seat," the article explains, "and that, the officer informed him, was a crime — one that in his case would lead to his arrest. He spent 12 hours in jail before he saw a judge, and was released after pleading guilty." I'm not cherry-picking: While the "crime" of putting one's feet up on a subway seat can be dealt with via a ticket, the article notes, "roughly 1,600 people like Mr. Peppers were arrested [in 2011], sometimes waiting more than a day to be brought before a judge and released, according to statistics from district attorneys' offices." Peppers's story is nothing compared to a case that yielded a court judgment against the city: "New York City paid $150,000 to Juan Castillo, a diabetic, who was arrested for putting his feet on a subway seat after he briefly lifted his leg to inject himself with insulin while riding a Manhattan-bound F train to work."
If you lift up the NYPD and shake it just a little bit, civil-rights advocates have found, thousands of brain-exploding arrests fall out of the department's pockets and scatter across the floor. What are the aggregate psychological effects of all these stops and searches and arrests? What does it do to people to know that every time they go to the bodega for some milk or some beer, there's a chance they'll be searched? What is it like to be surrounded by 20 cops because of your orange juice?
Even if you don't have empathy for the guy with the juice or the other guy who committed the crime of resting his feet on the subway, in the long run, the psychological dynamics of these sorts of interactions may lead to a damaging backlash that only makes it harder to fight serious crime.
Crime researchers like David Kennedy, Mark Kleinman, and others have shown pretty convincingly that there are techniques involving the sudden influx of police into an area that can work. When a given neighborhood is experiencing an out-of-control spike in violence, strategically deploying officers — "flooding the zone," in effect — can save lives. But this is using police as a scalpel, not a bludgeon: It involves actually knowing what's going on, clearly conceptualizing exactly what you're trying to accomplish, and shifting resources around in a smart way.
And if the neighborhood's residents are scarred from their stop-and-frisk experiences, are they going to welcome an incoming wave of police who look just like the police who were hassling people for peaceful stoop-drinking not too long ago, who made getting to the bodega and back unmolested a roll of the dice? There's a reason smart, progressive crime and policing experts often talk about the importance of trust, of building bonds with the community being policed. People don't want to live in high-crime neighborhoods. They want to help. But it makes it harder for them when they feel like their own dignity or safety is being threatened by the very people there to protect them.