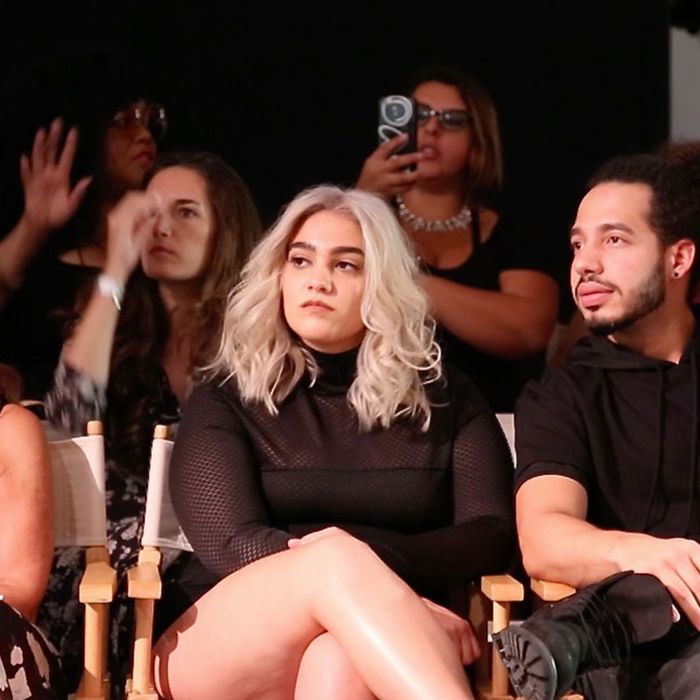 Nadia Aboulhosn watches the Addition Elle show.
Photo: Shevah Vahdatpour
The first fashion show I ever saw was Tadashi Shoji in 2012. I was still new to blogging and nobody knew who I was, so I was only invited to a few shows. Tadashi Shoji was one, and I loved it — he was incredibly talented, and he offered a larger range of sizes than most designers at the time.
Unfamiliar with how Fashion Week worked, I sat in the fifth row, wide-eyed, watching everyone take their seats as photographers piled on top of each other at the end of the runway. The lights flickered and everyone went silent. I remember how fast my heart was racing when the music dropped and the first model walked out. I couldn't think of anything other than this: One day those will be my clothes on the runway.
Later, when I was standing outside Lincoln Center, a street-style photographer named Mr. Newton pulled me aside and said he wanted to shoot me. "I want it to be nothing other than a beautiful girl being herself and being fashionable," he said. "I don't want to mention anything other than your name."
It was the first time anyone had approached me outside the shows. I'd noticed that street-style photographers kept taking photos of girls who were wearing outfits virtually identical to mine, while ignoring me. And as nice as it was for someone to tell me my look was unique, it made me realize such moments were rare. I don't like playing the victim, but it's hard to deny: Fashion Week sometimes made me feel like an outcast.
Instead of getting too down, though, I started trying to figure out how to create a more inclusive space, like the ones Tadashi Shoji and Mr. Newton created for me. This season, I came back in collaboration with Addition Elle, and my experience with New York Fashion Week was entirely different. Addition Elle is Canadian plus-size brand, and they'd invited me to do a collection with them. Their 2016 show included some of the best-known curvy models in the business: Ashley Graham, Marquita Pring, Barbie Ferreira.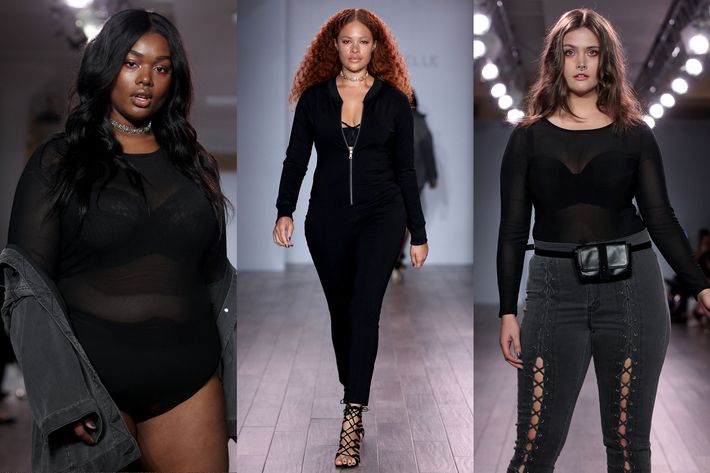 When Addition Elle first reached out to me years ago, I didn't hesitate to say yes: I know that the larger the size, the fewer clothing options there are, and I want to change that. I want to offer women a wider variety of clothing selections than ruched tops and loose sweaters. I want everyone to be able to pick outfits based on what's most fun rather than what hides flaws. I want women to feel good about themselves, not necessarily through clothing but through being seen.
I've had people comment that I'm not a good representation of body diversity based on my size and proportions. Which is fine: If you want to get literal about sizing, I'm technically not "plus size." But this isn't about a number — it's about how I (and women like me) are perceived in the fashion industry.
I experienced what I experienced at that first Fashion Week for a reason, and it angered me that people who weren't a sample size were looked at with a sort of disgust. I've always had thick skin, so if the discrimination impacted me, I can't imagine how others in my place would feel — or already do feel when they watch a commercial or flip through pages in a magazine and can't relate to anything.
So seeing my own designs walk down a runway at the Addition Elle show was pretty thrilling. But even more exciting was witnessing an entire venue of people of all sizes coming to see fashion that spoke to their lives. And then learning that Chromat and a few other shows included a range of models who were diverse both in size and ethnicity. It makes me feel like there's revolution happening at Fashion Week, and I'm grateful to be helping contribute to it.