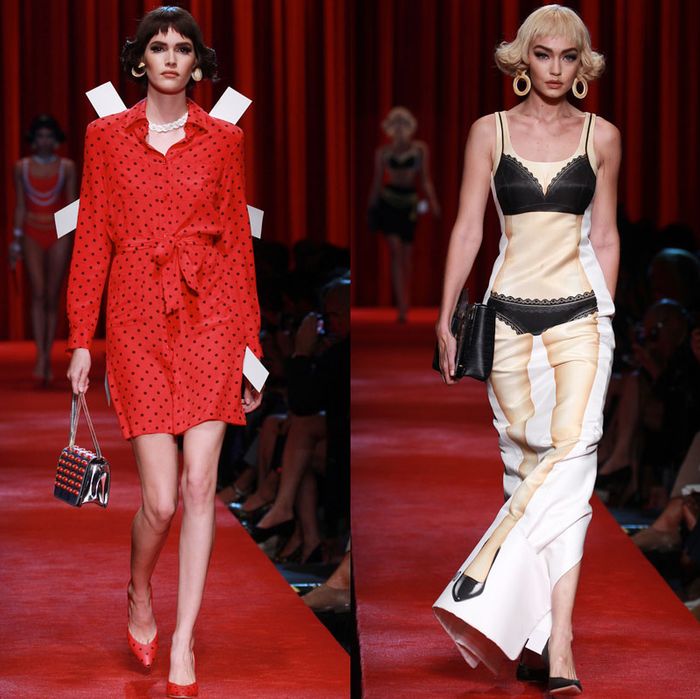 Jeremy Scott gave Milan Fashion Week a new form of his characteristic kitsch at the Moschino show today: He dressed his models (including Gigi and Bella Hadid and Anna Cleveland) as paper dolls. Like paper dolls, they carried cardboard cut-out jewelry and purses.
Guests were invited to view this capsule collection with literal capsules — invitations were pill bottles prescribed by "Dr. Moschino."
On a quiet, narrow one-way street, guests entered a vast room with a dramatic red-curtain backdrop. 
While a disco soundtrack blended with orchestra music, Gigi Hadid opened the show in a white evening gown printed with an image of a woman in a black bikini.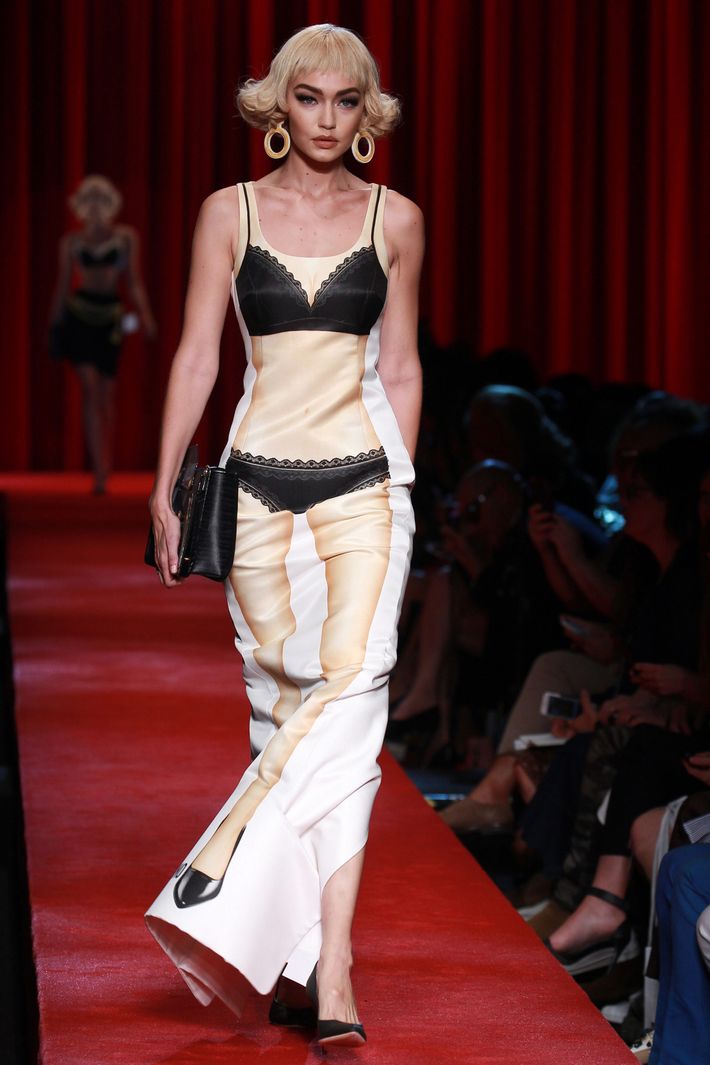 An old-fashioned French voice-over announced dress types, narrating and repeating French words for clothing like a vocabulary lesson as each garment appeared on a red-carpet catwalk: "Evening gown, une robe de nuit," the tutor would say. "Gloves, des gants … nightgown, une chemise de nuit."
Anna Cleveland (who emoted in typical fashion), Bella Hadid, and other models walked the red-carpet catwalk while the French voice-over went from vocabulary to a cheeky nod to consumerism: "I want something less expensive … J'aimerais quelque chose de moins cher."
Scott crafted Trompe-l'œil patterns, like novelty beach towels with bikinis or this half-khaki, half-black trench coat.
Accessories were often cardboard cutouts: 2-D gold-chain belts, peace-sign necklaces, and pearl and hoop cardboard earrings. Pills and pill bottles were cast as purses.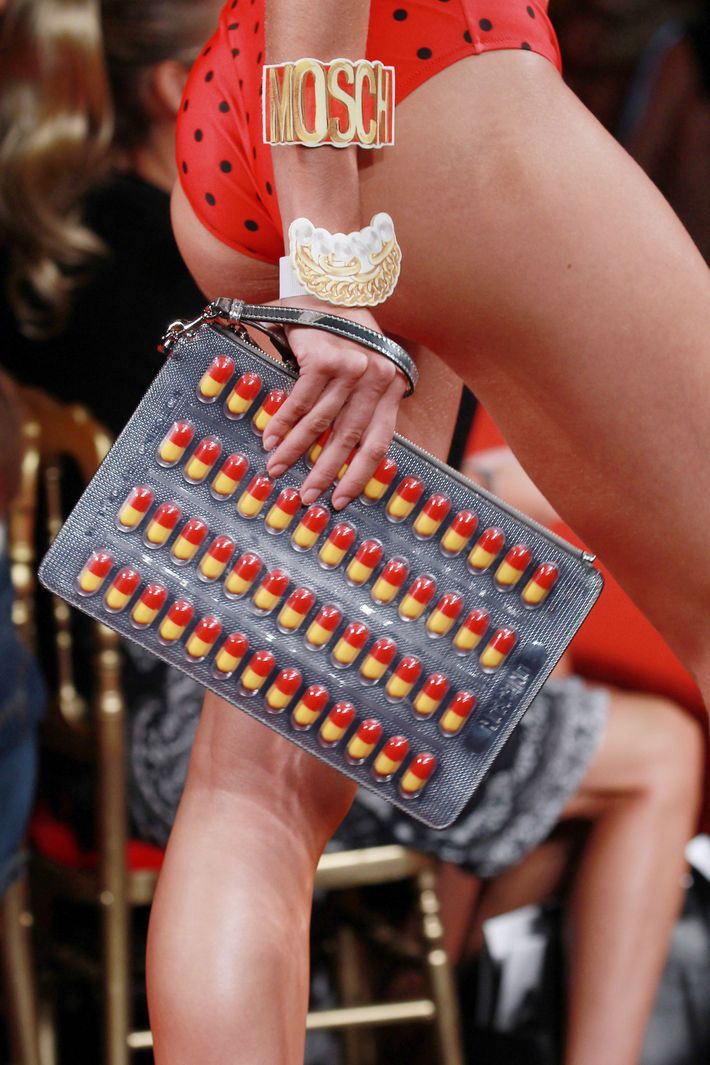 A two-piece ensemble that appeared mid-show took the paper-doll theme literally, for those who didn't get it: Images of paper-doll heels, pearls, and red gloves were patterned on black fabric.
Teddy bears printed on dresses and purses wore T-shirts with the slogan THIS IS NOT A MOSCHINO TOY. They were, actually, a bunch of cardboard.
Two-tone evening gowns in vintage silhouettes closed the final half of the show. There were lots of gloves and more Trompe-l'œil accents: a white Marilyn Monroe dress, one gown topped off with a giant pink 2-D bow, and a red column accented with a glittering cardboard sash. These elegant, fake-looking printed dresses were brightly colored — sapphire blue, yellow, ballerina pink, green.
The beauty look was retro: bobbed hair and short bangs, bold brows and smoky cat-eye makeup.
Jeremy Scott briefly appeared to close out the show, flashing a quick peace sign in a zebra hat and white tracksuit.