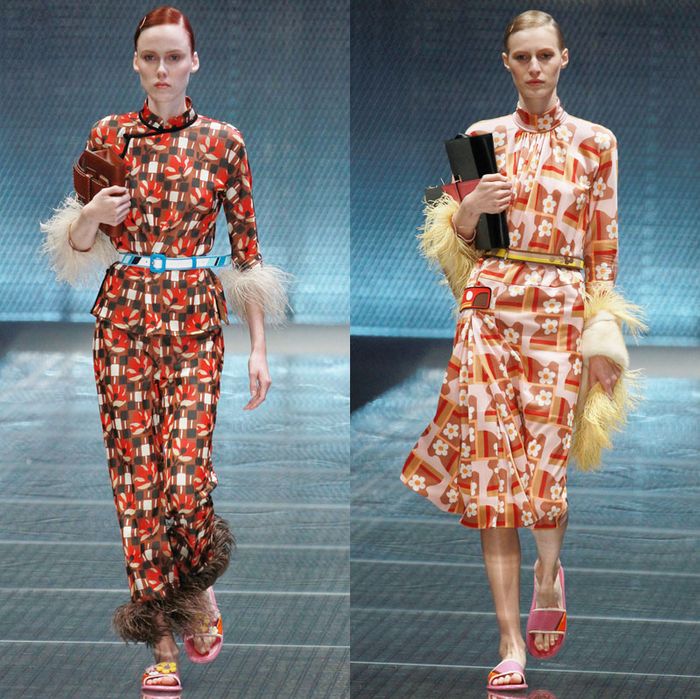 Plaids, feathers, Diana Ross lyrics.
Photo: Getty Images
Today's Prada show at Milan Fashion Week was a '70s fever dream: plaids, feathers, feathered plaids. Inside the Fondazione Prada — a contemporary art and cultural venue co-chaired by Miuccia Prada and CEO Patrizio Bertelli — a severely industrial runway echoed the aesthetic of the Prada men's spring show: Cold steel, metal-grate seating for guests, and a giant cage contrasted with the usual warm-tone sets of spring collections this season (in Gucci's case: disco).
The metallic runway's backdrop was a multi-screen film installation created by Oscar-nominated, Golden Globe–winning director David O. Russell (of American Hustle and Silver Linings Playbook fame).
Russell's collaborative short film Past Forward (which Prada released last week) stars Allison Williams as a Hitchcock blonde along with Connie Britton, Freida Pinto, and other house favorites. Fragmented scenes from the movie flickered behind models throughout the show. The "cinema poem" (per the program) aimed to construct "a surreal, futuristic silent dreamscape" in which moments, characters, and costumes repeated and morphed, playing with notions of time.
Prada's designs played with time as well, sharply contrasting with the futuristic steel runway. After a simple red-belted black dress opened the show, colorful '70s plaids in muted, mod tones (browns, yellows, reds) and marabou-like accents dominated the collection.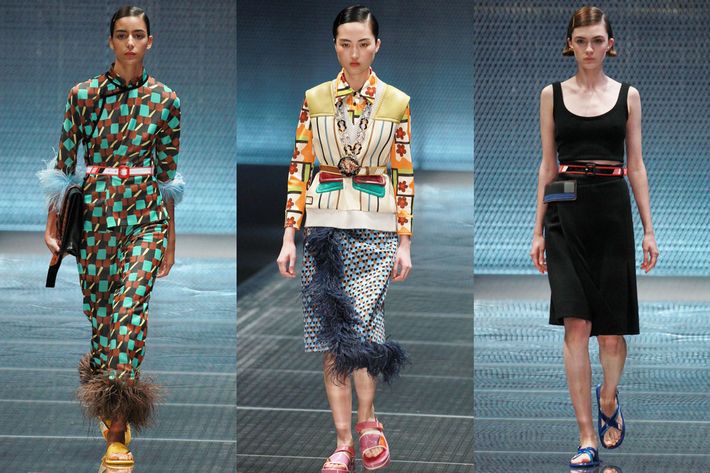 Models like Raquel Zimmermann and Saskia de Brauw walked in Asian-influenced styles that riffed on travel, similarly to Prada's men's collection. Orchestra music opened the soundtrack, which blended with dreamy, reinterpreted '70s-era Motown lyrics (think Diana Ross: "Reflections," "Love Hangover").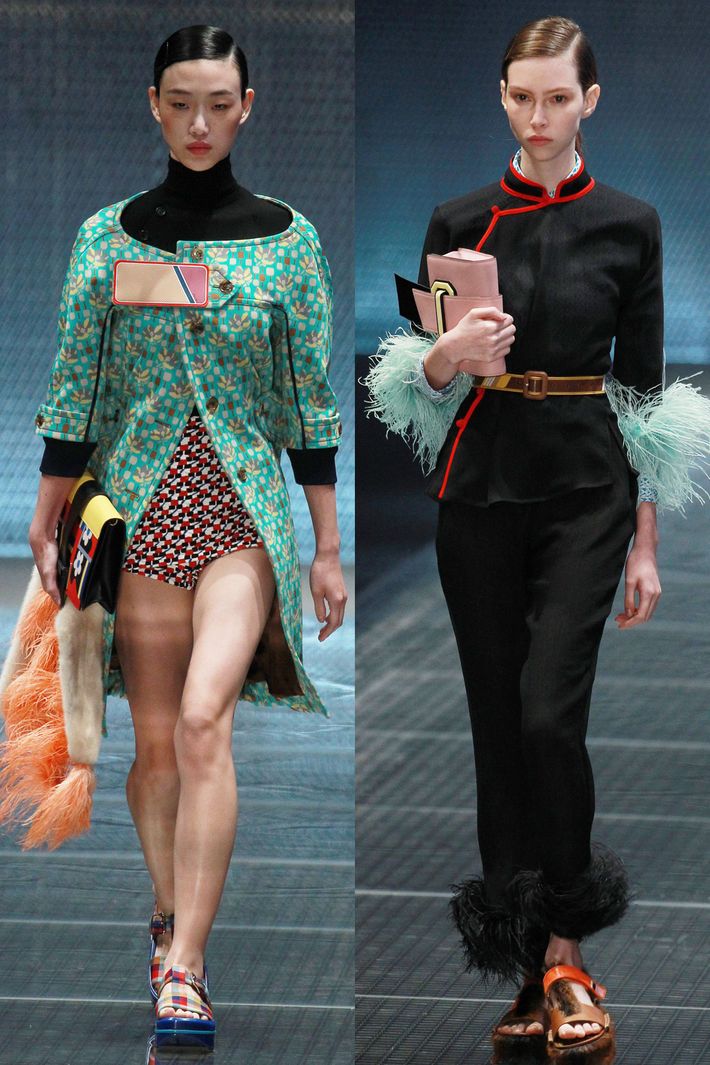 Feathers accented nearly every look, lining the sleeves of trench coats and plaid jackets, slits of silky skirts, scarves, and handbags. Plumes were either white or brightly colored to contrast with a garment's fabric, like purple feathers on a red skirt.
Models wore flatform shoes or kitten heels (often feathered … how to walk in feathers?).
The beauty look: smoky, minimalist makeup by Pat McGrath. The hair was simpler, parted to one side and sleekly pulled back.
Wonderfully odd pairings of mod patterns gave way to softer, simpler silhouettes and sequin-embellished dresses.
After all of the looks streamed down the metal runway like a muted rainbow, Miuccia Prada made an unusually long appearance to thank her guests. Known to peek out ever so briefly after Prada's shows, this time she really went for it, waving to the crowd in all black and gold sandals.
A final shot from Russell's film appeared on every screen throughout the room: No longer blurry, this image was perfectly clear — one woman's face in profile, alone.