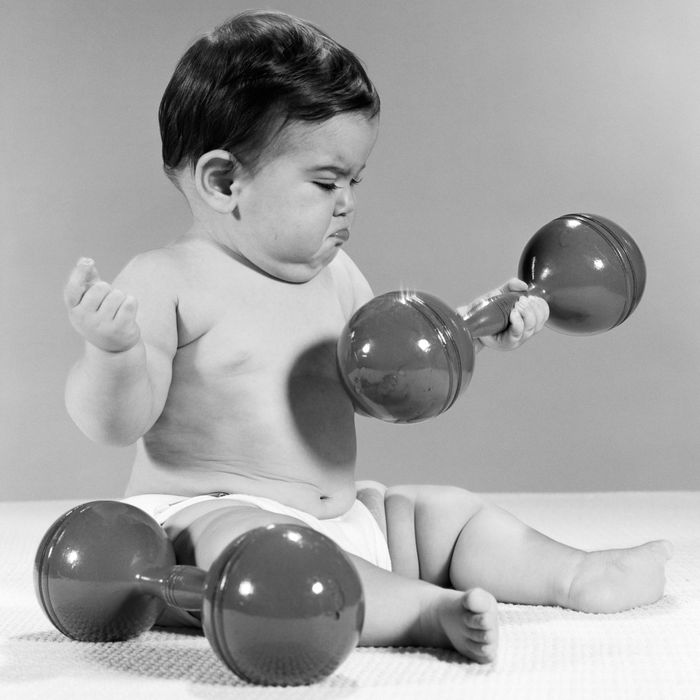 The CrossFit gym owner who's a new mom and training for a weight-lifting competition.
Photo: H. Armstrong Roberts/ClassicStock/Getty Images
I led classes at the CrossFit gym my husband, Jay, and I co-own until the day before I gave birth. I was heading out for the 6 a.m. class when I said to Jay, "I think you should come with me, because I don't feel great." It turns out I was in the early stages of labor. My son, Saxon, was born the next morning.
We actually lost some female clients when I was pregnant, and I think it was because it seemed like I was doing it all, which was de-motivating to them. I was told I was annoying to be around. Some of the women had set goals and weren't achieving them as fast as they hoped to, and it was just ironic timing that my training was going well. There was also a couple having trouble getting pregnant, and seeing me pregnant was emotionally challenging for them.
When Saxon was a month old, I started teaching classes again, one a day. A lot of it was for my personal sanity. The hardest thing for me about being a new mom was going from interacting with 35 to 50 people on a daily basis to being quote-unquote "stuck at home with my kid" and going a little stir-crazy.
Saxon started learning to crawl and pull himself up as I was training for a weight-lifting competition I'd qualified for when I was pregnant. I worked my butt off to get back in shape for the competition, and that was getting more challenging as Saxon became mobile, so I put him on a wait list for day care.
Jay and I made a pros and cons list. The pros were that we'd be giving ourselves more space, and Saxon would get to socialize with peers. But the cons were that he wouldn't get to see us working or be around all these different types of people, and that was important. We realized that if we collaborated and communicated a little better, we didn't need day care.
Nutrition also factored into our decision. I've been taking Saxon to farms to pick fruit and produce since he was 3 weeks old, and he's been helping me in the kitchen since he could stand. The day care we were considering didn't allow you to bring outside food in. Given our passion for fitness and health, exposing Saxon to highly processed, nutritionally vacant food was not something we wanted. Their menu included things like vanilla pudding for breakfast and cookies and cake for snacks, with little to no vegetables.
By the time Saxon was 6 months old, we started bringing him to the gym every evening. I teach the 6 and 7 a.m. classes, get home by 10, hang out with Saxon until 4, and then go back to the gym with him. He gets to see real, genuine frustration as well as happiness. He mainly hangs out in the front lobby area with his books and toys. He's become our little greeter; he knows people's names and brings them their weight-lifting shoes.
Part of the reason we started our gym is because it gives us the freedom to have our kid with us during the day. If we were working nine to five, it would be a much different scenario. We could probably make more money that way — we're certainly not getting rich — but our quality of life is what keeps us going.
The best part of being able to take my son to work with me is also the hardest part: I'm with him all the time. I know the grass is always greener; the stay-at-home mom just wants to get away, and the working mom wants more time at home. Once I vented to a friend who has three kids and a 45-minute commute each way, and she was like, "Are you really complaining when you only have to be away from your son for three hours a day?" I've chosen this lifestyle, so I feel like I have no right to complain. I can say that I'm exhausted at the end of the day.
Working with your spouse is tricky, because you have to ask the person you're married to for a break from work or your son. It can be awesome, but when the business isn't doing well, our relationship is tenuous, and we have to be careful around our kid. When it's good, it's good, but when it's rough, it's rough.
We try to keep work at work. When Saxon was little, we'd have our big weekly meeting over lunch every Saturday. But now that he's more verbal, you can't talk around him, so we try to have work discussions when he's playing or preoccupied. We have to make stressful decisions, and we don't want to expose him to those.
Owning a small business is hard, but it means I can spend these first six years with my kid. I actually don't know how much of a difference it makes to him, but it matters to me. I've always wanted to be a mom, and my biggest fear before I had Saxon is that I wouldn't be able to have a child of my own. Once he goes to school, I feel like I'm never going to see him again. Eventually, the financial demands of raising him might mean I'll have to consider going back into biotech. Until then, I just want to enjoy these days as much as I can.