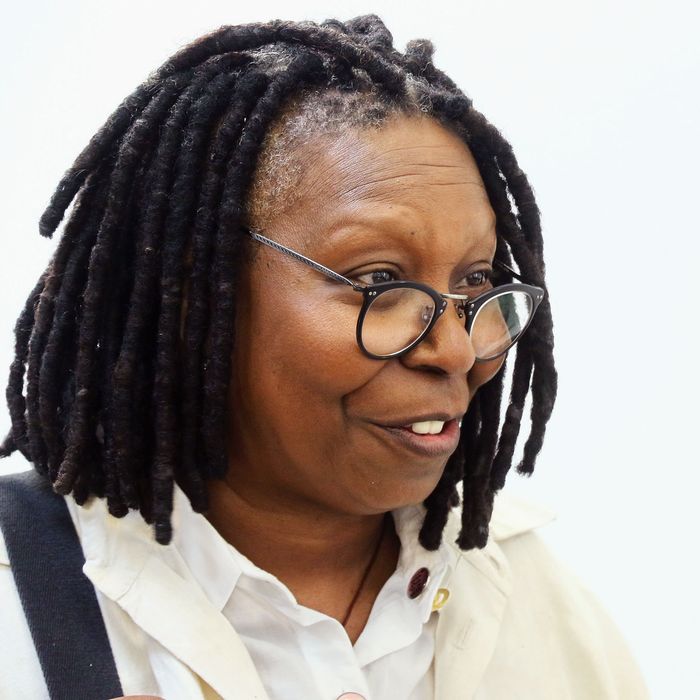 Photo: Jim Spellman/Getty Images
When Whoopi Goldberg arrived at Jersey City's Mana Contemporary cultural center to host the Marilyn Monroe exhibit she'd curated, she was wearing a casual cardigan, a beanie, and an American flag–printed scarf. She might have been a little underdressed, but nothing she wore was quite as controversial as the Vetements sweatshirt she'd sported on The View earlier that week, which read "May the bridges I burn light the way."
Goldberg, who just premiered a transgender modeling competition called Strut on Oxygen, also announced on Friday that she likely wouldn't return to the talk show next season. She's too busy.
Of the Vetements sweatshirt, which came from the fall 2016 runway, she says, "I wanted to wear that so people understood where I was coming from. I didn't give a shit if people didn't understand what we were doing, if they didn't like what we were doing. I'll burn the fucking bridge!"
She added that she thought "wearing that would allow other people to see where I'm headed. If you wanna go with me, great. If you don't, it's cool, too. But don't fuck with me. If I could have worn a shirt that said, 'Don't fuck with me,' I would have."
She adds that her approach to personal style offscreen and on- may be considered unconventional for the typical daytime television host. "All the women I work with are always wearing really sleeveless stuff," she says, joyfully looking around the gallery space as if someone who mirrors this archetype might be listening.
Coincidentally, the Marilyn Monroe exhibition that she's here to celebrate contains distorted images of the starlet by photographer Weegee. Monroe's lips and hips — among other things — are enlarged, twisted, or inverted. "The distortions of who this icon was are basically how we, as women, look at ourselves when it's through the eyes of other people," she explains.
The show includes the nude, glittering dress that the star wore to sing "Happy Birthday" to JFK, as well as a grocery list — " I fell in love with it because it started with Champagne," notes Goldberg — and rare photographs of Monroe lounging in the pool. "That's what we all look like when we wash all the shit off. It's great," she says.
As Goldberg leaves The View, her presence in fashion is clearly growing. Earlier this month, she walked in Opening Ceremony's political fashion show, and she also sat front row at Hood by Air.
We can all learn a thing or two from her approach to dressing. "When I get crazy, I just look down at my shoes and they make me laugh," she says of the cloud-printed boots, embroidered wedges, and Star Wars–themed heels she's posted on Instagram. "It's so I don't say anything stupid that I'll regret because someone is irritating me. I just wear the shoes to keep me focused on not being an asshole, which is a tendency." If only that worked on everyone.
"Marilyn: Character, Not Image" is on view at Mana Contemporary until October 22.