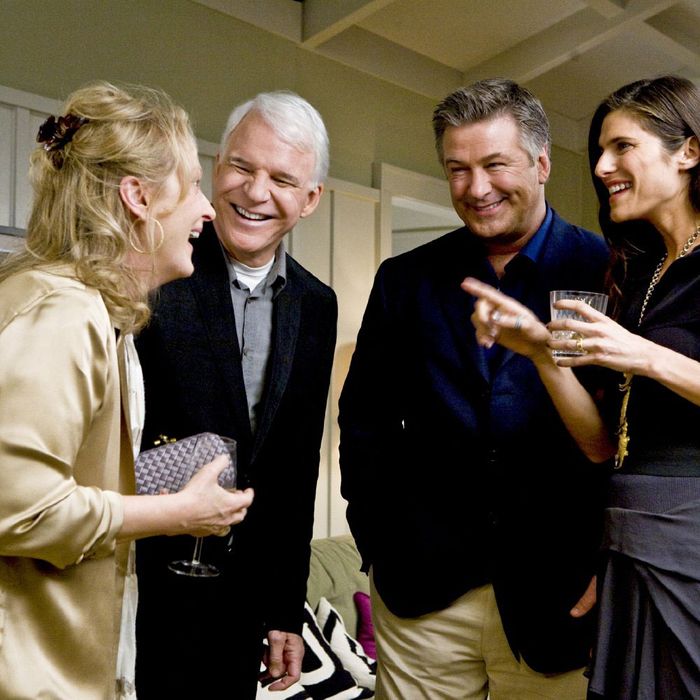 It's Complicated.
Photo: Courtesy of Universal Pictures
My husband shows me the cover of the New York Post: a giant picture of Jennifer Aniston laughing, all gleeful and raucous, her face covered by the words "Brangelina 2004-2016."
"See," he says, handing me a coffee and the paper, "if that was my ex, she'd be shrugging."
I laugh, both at him and the cover, and ponder the septic levels of Schadenfreude currently infecting the world amid the Power Couple Divorce of the Decade.
I myself am very divorced. My husband is even more divorced — twice as much, actually. Of course, we are now married, in love, and oh so happy together despite our ups and downs. And yet, like everyone I know who has ever gone through one, we've never fully shaken the long-game repercussions that a failed marriage continues to incur. Divorce changes your DNA like a retrovirus, and you're never the same again.
"Divorce is so unlike other forms of personal tragedy," I mused to my husband. "You can't ever not be a divorced person again. It's like a twisted form of losing your virginity. It changes how you interact with people the rest of your life."
In a 2015 interview, Angelina Jolie spoke about the challenges of long-term relationships, saying, "I think it's a reality of marriage that you go through hard times and that you have to embrace those hard times and challenges and know that it's a part of your marriage and it's the pulling through together that actually makes the bond." But sometimes you've pulled that union together as far as you can, and the ends just aren't meeting anymore. The unthinkable becomes unthinkable. The papers get drawn. The marriage is lost, and the phantom limb of divorce is gained.
One day you're glass-half-full. The next day you're thousands of shards embedded into nerve endings you didn't even know existed.
"Divorce is not on the table for us," I say repeatedly to my husband as I read the newspaper. I am naïve and predictable. I am like every other person in the world who has ever been or ever will be married.
"Well, it's on the table," he says. "We're just not going to reach for it."
Of course, everyone is half-destined to divorce. Even for first-time married couples, it's a coin toss (45 to 50 percent chance of splitting). For second marriages, there's a 60 to 67 percent probability. For third marriages, the odds of doom rise to 70 to 73 percent. And for anyone who actually becomes one of these sad statistics, there's a 100 percent chance they'll never be who they once were. Just to rub it in, they'll be required to declare their change in status any time they fill out HR paperwork, as bureaucracy's very special "Fuck you."
HBO's new show Divorce offers some insight into the relationship death monster that is divorce, with Sarah Jessica Parker's character asserting to her husband: "I want to save my life while I still care about it."
Because it feels like that, doesn't it? When you just need to be done? "This decision [to get divorced] was made for the health of the family," Angelina Jolie's attorney said in a statement about her decision to file after two years of marriage. Who wouldn't want to save their health when faced with such a dire prospect?
Indeed, divorce can seem like a last-ditch experimental study to turn back the tides of an insidious disease, but the devastating ravages still linger long past the miraculous recovery. It's not much of a surprise, then, that divorced and widowed people experience 20 percent more chronic health conditions than married people. As the University of Chicago sociologist and study author Linda Waite explained, "Each person's experience of marital gain and loss affect this stock of health."
Or, as Angelina Jolie told Marie Claire in 2012, "[Brad] has expanded my life in ways I never imagined. We built a family. He is not just the love of my life, he is my family. I hold that very dear."
It's the catch-22 of getting divorced: You get divorced to "save" something (yourself, your family, your sanity), but in the process, what you lose (yourself, your family, your sanity) can never be restored to what it was. You can't unsee certain things, you can't undo experiences that change your wiring, and you can't ever fully Fraxel away the emotional battle wounds that divorce inflicts upon its participants. That's because if you had a "sincere love and attachment to your spouse … you're never completely 'done' grieving," says therapist Susan Pease Gadoua.
"What we had was crazy and fun, but it ended because it needed to end," Sarah Jessica Parker's character says in Divorce, and then there is a pause. "Right?"
Divorce offers no finality. Over on Bravo, The Girlfriends' Guide to Divorce features the male lead uttering a line that could practically be the informal motto for anyone who's gone through it. He says: "I am still — and screw me — I probably always will be, in love with you."
Because, even when the legal proceedings come to an end, there is no closure. Just Google the tens of thousands of results to "divorce worse than death" or read the many thoughtful answers on Quora to this question. "In death, there's loss and separation and sadness, but in divorce, you don't even get to keep the memories. Every single one becomes suspect. Every single 'I love you' is no longer a happy thought but a suspected fraud and a painful remembrance. And the isolation of divorce is hell on this earth," wrote Rose Thornton, the author of The Ugly Woman's Guide to Internet Dating. She also recalls asking a woman who had experienced both becoming widowed and simply divorced which was worse, and her friend answered, "No contest. That divorce nearly swamped me."
A divorced person is like a tragic walking BuzzFeed listicle ("26 Signs of Crippling Depression for Divorcées That Will Make You OMG") or quiz ("Which Stage of the Grief Cycle Are You?"), forever susceptible to sneaky loops of shame, which, one tender therapist once told me, can also be an acronym meaning: "Should Have Already Mastered Everything."
Because, no matter where you go, no matter who you meet, no matter who you even marry, once you get divorced, you don't ever stop being That Person Who Failed at Marriage.
Divorce never stops whispering in your ear, "I'm here."
All you can do is quiet it.
Accept the fact. Then whisper back even stronger, "So am I."