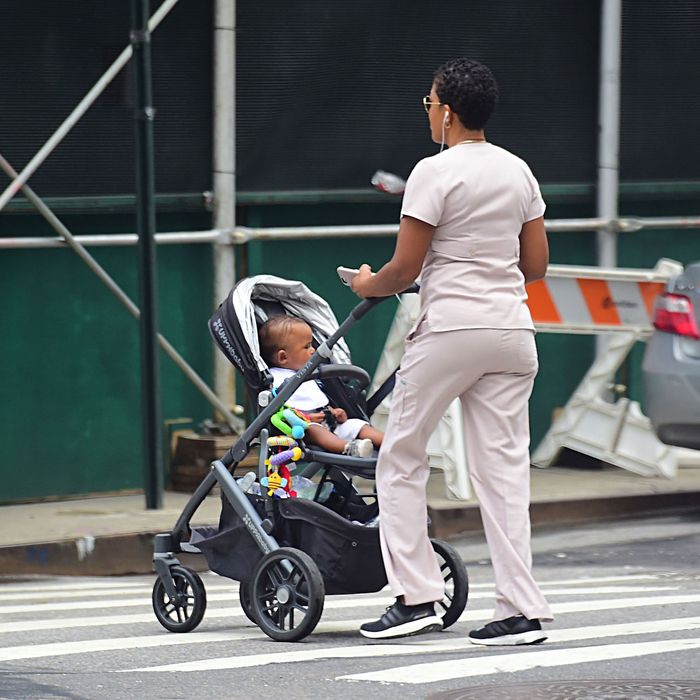 Saint West and his nanny out for a stroll in NYC on September 1, 2016.
Photo: Splash News
It took me a while to come around to the allure of the Kardashians. By the time I saw my first episode of their show, Keeping Up With the Kardashians, they were already a few seasons in. It took me even longer to get to where I am now: completely in awe of their awesome woman power.
But now as a mother, I watch the show with really different eyes than I did before I had a child. I give a lot more credit to Kris Jenner, who clearly has been a great mother for many years. And though the newest generation of Kardashian mothers (Kourtney and Kim) have a lot more money and are a lot busier than many of us, they also seem to be truly family focused and really well grounded, and I give their parents a lot of the credit for that. Say what you will about their fame (and haven't we said all of it, already?), the Kardashians are a true clan: They are close-knit, they travel and live together, and it's not just for television. Despite the often very silly and obviously setup bits on the show, there's a lot of candor and closeness, real moments, between the family members.
So, the mother in me watches, and though I am loath to criticize them because I love them, I often wonder, Where are the nannies? I know they exist. Why, in a show that is pretty often groundbreaking and transparent and "real," are they invisible?
I know the Kardashians have nannies because, even though I am not a Kardashian, nor am I wealthy, I am a working mother and my daughter has had a nanny. She goes to school now, and only has an occasional babysitter, but when you work there are only a few options for very young kids: day care, family members, or nannies. I know that any working mother — especially say, one whose partner tours as much as Kanye West — needs more help than her also-working and busy family can provide.
This is an issue of feminist concern. Kim Kardashian might not want to call herself a feminist, and that's fine: I can see with my own eyes that she is an admirable role model for young feminists everywhere. Despite plenty of writers — men and women — claiming that the Kardashians are "famous for nothing," it's become obvious over the past few years that the women of the family are extremely good at business, and critiques that they're making money "doing nothing" (clothing, apps, makeup, etc.) feel more than a little gendered.
But the realities of motherhood — and working motherhood — are what they are regardless of if you are Kim Kardashian or Laura June: One person cannot be a busy full-time worker (whether for themselves or someone else) and also a full-time caregiver to a child. This is simple math, and it should be celebrated and accepted.
Having a nanny or other caretaker for your child doesn't make you a lesser mother. The fact that you don't spend 24 hours a day with your children has no bearing on the quality of the time that you do spend with them. And, in modern society, which, yes, has been influenced heavily by the feminist movement demanding equal rights — including the right to earn a living — being able to afford child care should be a right, not a luxury. A right that we should not be ashamed of requiring or making use of.
Now, the historical place of the nanny is a little complicated, so we generally don't talk about them as what they often are: part of our extended families. I feel this way about the teachers at my daughter's school. They are part of the network of people — almost exclusively women — who help me care for my daughter in the best way possible. This is something to celebrate, and I would love to see the Kardashian's nannies on the show, just as I have seen Kris's personal assistants and people who buy clothes for DASH for years. Instead, what I see are quick cuts of the kids while Scott and Kourtney talk, then seconds later, it's just Scott and Kourtney, alone in the kitchen. I see Kim out and about driving her car just months after North is born, and I think, Where is North?
I have no right to know: When I am out in my car, alone, I don't want anyone saying, "Who is watching your daughter?" That question would get an eye-roll or a "fuck you," depending on my mood. And I respect their decisions about when and how to have their children on the show. "I signed on to do this," Kim said right after North's birth in June of 2013, "but that doesn't mean that my husband and my child did." I respect this decision, and I support it. But realistically, the absence of any child care on the show stands out in a way that calls more attention to itself. Even passing references would go a long way toward normalizing the realities of everyday child care: It literally takes a village of people to raise small children.
There are plenty of shots of the Disick and West children out there, sometimes with their parents, and sometimes out and about with their caretakers. Just last week Saint West made news because he was spotted out in his stroller in NYC, wearing a pair of his father's much sought-after baby Yeezy sneakers. What no one really focused on was that Saint was with his nanny. I remember thinking about this years ago, when my daughter was still a baby, and had just started spending time with her nanny while I worked at home writing. How weird, I thought, she's out in the world, at a museum or a park, with someone who isn't me. She's living on her own timeline, and I'm on mine. Luckily, there was no paparazzi there to watch her.