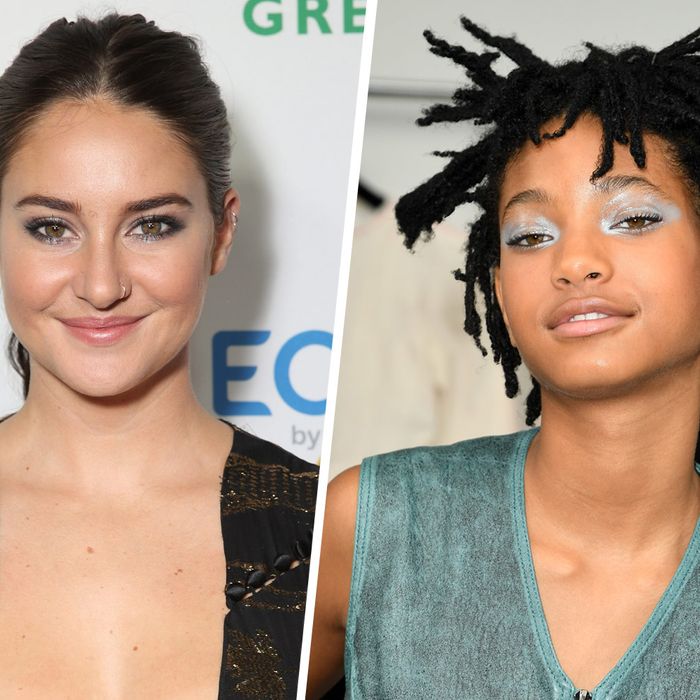 Shailene Woodley and Willow Smith
Photo: Getty Images
Underground quantum physics teacher Willow Smith and artisanal toothpaste-maker Shailene Woodley seem like a match made in millennial heaven, and in a new interview for Dazed magazine (conducted by fellow beacon of enlightenment Amandla Stenberg), Willow confirms that they have eaten raw food together at a plant-based restaurant at least once. The proof:

Willow Smith: Craziness. Speaking of Divergent — Shailene Woodley, I love her. Did I tell you I saw her in Cafe Gratitude?

Amandla Stenberg: When you ate raw food together?

Willow Smith: Yeah. She got me a key lime pie, and she didn't even have to do that.

Amandla Stenberg: Shailene Woodley is like, for real, bae. She makes her own toothpaste. It's crazy.

Willow Smith: No fluoride in my toothpaste!
What's on the agenda for the next squad chill? High-fashion mountain-climbing expedition? Clay-based potluck? Roving feminist book club and berry-foraging expedition? Interdisciplinary youth panel on quantum physics and womb wisdom? Ascending into the sky through the force of sheer will? Whatever it is, please, invite me on the press trip.