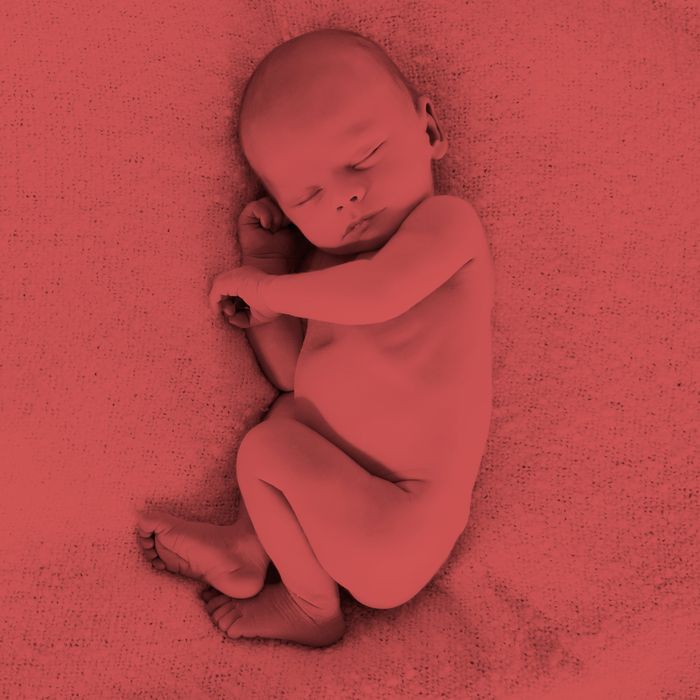 Photo: Judith Thomandl/Getty Images
Back in 2014, a bigoted African leader put J. Michael Bailey, a psychologist at Northwestern, in a strange position. Yoweri Museveni, the president of Uganda, had been issuing a series of anti-gay tirades, and — partially fueled by anti-gay religious figures from the U.S. — was considering toughening Uganda's anti-gay laws. The rhetoric was getting out of control: "The commercialisation of homosexuality is unacceptable," said Simon Lokodo, Uganda's ethics minister. "If they were doing it in their own rooms we wouldn't mind, but when they go for children, that's not fair. They are beasts of the forest." Eventually, Museveni said he would table the idea of new legislation until he better understood the science of homosexuality, and agreed to lay off Uganda's LGBT population if someone could prove to him homosexuality was innate.
That's where Bailey comes in: He's a leading sex researcher who has published at length on the question of where sexual orientation comes from. LGBT advocates began reaching out to him to explain the science of homosexuality and, presumably, denounce Museveni for his hateful rhetoric. But "I had issues with rushing out a scientific statement that homosexuality is innate," he said in an email, because he's not sure that's quite accurate. While he did write articles, such as an editorial in New Scientist, explaining why he thought Museveni's position didn't make sense, he stopped short of calling homosexuality innate. He also realized that in light of some recent advances in the science of sexual orientation, it was time to publish an article summing up the current state of the field — gathering together all that was broadly agreed-upon about the nature and potential origins of sexual orientation. (In the meantime, Museveni did end up signing the anti-gay legislation, justifying his decision by reasoning that homosexuality "was learned and could be unlearned.")
To help write his paper, Bailey assembled an impressive multidisciplinary team: It consisted of the psychologists Paul Vasey and Lisa Diamond, the neuroscientist S. Marc Breedlove, the geneticist Eric Vilain, and Marc Epprecht, a historian with a focus on gender and sexuality in Africa.
Their article, which was recently published in Psychological Science in the Public Interest, is something of an all-you-can-eat buffet for anyone interested in the current state of scientific research into sexuality. While it's loosely organized around the "moral" concerns raised by Museveni, it covers a wide range of subjects. It's worth a full read, but three main points leaped out at me:
1. There's a connection between gender expression and sexual orientation that seems to show up just about everywhere. It's important to note that just about everything in Bailey and his colleagues' paper has to do with average differences between members of different groups. Nothing in the paper (or this article) should be taken as implying that "all straight people X" or "all straight people Y." The average man is significantly bigger than the average woman, but plenty of women are bigger than plenty of men; the same logic holds here.
That caveat aside, there seems to be a consistent, robust way in which sexual orientation and gender roles play off of each other and that starts early in childhood for many people. Bailey and his colleagues point out that "Childhood gender nonconformity … is a strong correlate of adult sexual orientation that has been consistently and repeatedly replicated." For boys, this means that if a child enjoys cross-dressing, playing with dolls, growing their hair long, preferring girls as playmates, and so on, then — true to stereotype — there's a significantly increased chance that he will grow up to be gay (in cases where all this is accompanied by gender dysphoria, or discomfort with their natal sex, there's a chance he could also end up identifying as transgender).
Broadly speaking, these sorts of differences between (pre-)gay and (pre-)straight people persist into adulthood. Among adults, "Research indicates that heterosexual men have greater interest in occupations and hobbies focusing on things and less interest in those focusing on people, compared with heterosexual women." For gay men and women, the pattern flips: Gay men are more into people-things than their straight brothers and dad, while gay women are more into object-things than their straight sisters and moms. This blending of stereotypically gendered behavior seems to extend to "gestures and walking," "speech," "physical presentation," and "even facial appearance."
Fascinatingly, "the link between gender nonconformity and nonheterosexual orientation has been found in a wide variety of cultures," the authors write, and seems to manifest itself in similar ways just about everywhere. To take one example, the researchers quote from a book chapter called "Os Entendidos: Gay life in São Paulo in the late 1970s":
In the Guatemalan Indian town of Chimaltenango, two men lived together as lovers, wearing typical Indian clothing in an outwardly traditional Indian adobe house. The house, however, was decorated in a manner strikingly different from the other Indians. It was meticulously and elaborately decorated, a characteristic frequently found in homosexual subcultures … The occupation of the lovers was that of stringing pine needles in decorative strands, traditionally used in Guatemala for holidays and other festive occasions, and supplying flowers for weddings. In essence these two men were florists, involved in the arts of embellishment, which in larger societies are universally linked with homosexual subcultures.
Because of this striking consistency in the (again, average) differences between how straight and gay people present themselves around the world, the researchers suspect that whatever's going on here can't be explained solely by suggesting gay people are simply fulfilling — or being socially coerced into — culturally expected roles:
Before leaving the topic of gender nonconformity, we address a commonly raised question: Might the gender-atypicality of adult homosexual men and women simply reflect a culturally influenced self-fulfilling prophecy? In other words, given that society expects homosexual individuals to be gender atypical, and given that LGB communities often support and facetiously celebrate such gender atypicality, perhaps some homosexual people adopt gender-atypical characteristics to conform to their own stereotypes. Because of the evidence we have reviewed — indicating that gender nonconformity often begins before a prehomosexual child even has a sexual orientation or is aware of cultural stereotypes, and that the link between gender nonconformity and nonheterosexual orientation has been found in a wide variety of cultures — we think it is highly unlikely that gender nonconformity in LGB populations represents a self-fulfilling prophecy due to cultural beliefs. It is possible, however, that cultural stereotypes sometimes amplify gender nonconformity among LGB people. Many LGB individuals report that they have always been fairly gender-typical in dress, appearance, and interests. It is possible that as these individuals come to identify as LGB and participate in the LGB community, they adopt aspects of gender-atypicality.
So if they're right, what does explain these average differences? No one's quite sure. But it seems like for the average human, sexuality and gender presentation are intertwined in important ways.
2. The best evidence for a nature-over-nurture explanation of sexuality comes from an accidental quasi-experiment involving surgically removed penises. Bailey and his colleagues ran through a bunch of the different ways researchers have tried to puzzle out what makes some people gay, others straight, and others bisexual: brain and hormone and genetics studies, among other areas of research. All these fields have added interesting nuggets, but it's clear from the study that the researchers are most excited by a coincidental small pile of research they call "the near-perfect quasi-experiment."
The participants in this quasi-experiment might not share the researchers' enthusiasm. All of them were natal males who were either "born with malformed penises or lost their penises in surgical accidents." Between 1960 and 2000, Bailey and his colleagues write, "many doctors in the United States believed that such males would be happier being socially and surgically reassigned female," and that's what happened to these kids: They were raised as girls, wearing "girl" clothes, doing "girl" things, and so on. (Alice Dreger does a wonderful job explaining this practice and how it came to change, in part due to activism she herself helped to spearhead, in her book Galileo's Middle Finger.)
Bailey and his colleagues examined the seven such cases that have been written up in the literature. Of the seven, they found, six of the unfortunate subjects came to eventually identify as heterosexual males at the time they were followed up with; the seventh still identified as female and said she was "predominately" into women.
If socialization were a significant part of the sexuality equation, the odds that not one of these natal males would grow up to be attracted primarily to men are just about nil, statistically speaking. "These results comprise the most valuable currently available data concerning the broad nature-versus-nurture questions for sexual orientation," write the researchers. "They show how difficult it is to derail the development of male sexual orientation by psychosocial means. If one cannot reliably make a male human become attracted to other males by cutting off his penis in infancy and rearing him as a girl, then what other psychosocial intervention could plausibly have that effect?"
So does that clinch it? Sexuality is, in fact, innate? Not quite …
3. "Born this way" is probably wrong, but it doesn't matter. Think back to the reason Bailey decided to co-author this paper: Uganda's homophobic president was asking for "proof" that homosexuality is inborn. Bailey and his colleagues don't think it would be accurate to claim to be able to deliver him that proof. At the moment, they write, when you look at the (somewhat limited) twin research that has been conducted — studies on twins being the best large-scale way to tease out nature-nurture questions — it looks like about a third of the variation in sexual orientation in human beings comes from genes; 43 percent comes from environmental influences a given set of twins don't share (random factors that cause their brains and bodies to develop differently, such as different experiences); and 25 percent from environmental influences they do share (their general upbringing, developing in the same uterine environment, and so on).
Putting things a bit more straightforwardly: Identical twins share the same genes and the same womb, and yet when one is gay, the other is usually straight. That means things likely aren't set at birth. Those environmental factors — mostly nonsocial ones, the researchers think — do matter.
So it's complicated, and there's also a sex divide: Bailey's current view is that male sexual orientation is probably more or less set by birth, but for females, who in general exhibit a bit more fluidity with regard to sexual orientation, postnatal factors could be important. For humanity as a whole, "born this way" is probably a bit too pithy a summary of what's going on, at least in light of the current evidence — which could change as we come to better understand the brain, genetics, and hormones. (Note: I updated this paragraph post-publication to mention the sex difference, which is important and comes up throughout Bailey and his colleagues' paper.)
But as the authors hint, people often misinterpret this as meaning sexual orientation is a choice, or is something one person (presumably a creepy older adult) can teach another one (presumably an innocent, otherwise-straight child). That's not the case. It's important, they argue, to keep in mind a simple distinction: The sentence "I choose to have sex with partners of my own sex" makes sense, while the sentence "I choose to desire to have sex with partners of my own sex" doesn't. No one chooses what they desire. The authors make this point nicely with a quote in which Einstein sums up one of Schopenhauer's views: "Man can do what he wills, but he cannot will what he wills." The opposite of inborn isn't chosen.
It's perhaps no surprise that in the last part of their paper, Bailey and his colleagues come out strongly against the harsh anti-gay laws Museveni passed. There's scant evidence, contra Museveni's claims, that homosexual people "recruit" otherwise-straight children into their subculture, or that sexuality is otherwise socially learned. Museveni's resistance to evidence might be a useful lesson: People seeking to demonize and stigmatize other people's identities and behaviors probably aren't particularly interested in the science underlying those identities and behaviors, anyway. They tend to be far more animated by political opportunism or fear or disgust than a desire to truly understand the full, fascinating range of the human experience.
For the rest of us, born this way might be useful shorthand, but it doesn't capture the full picture — and we can handle the nuance.