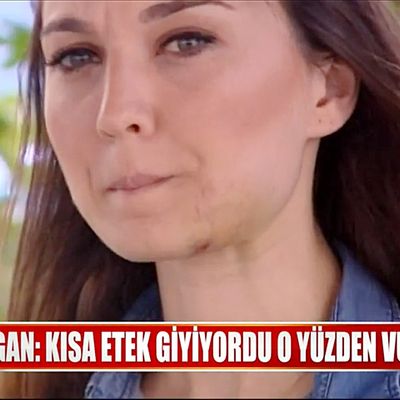 Ayşegül Terzi was kicked in the face by Abdullah Çakıroğlu.
Photo: Courtesy of YouTube/İbrahim Konar
After prosecutors in Turkey initially refused to arrest a man who kicked a 23-year-old woman in the face for wearing shorts, women's-rights advocates gathered in Istanbul on Sunday in protest.
Ayşegül Terzi, a nurse, was assaulted on a bus by Abdullah Çakıroğlu, a 35-year-old security guard, BuzzFeed reports. Çakıroğlu was initially detained after the attack, and told authorities that Terzi's shorts did not "fit the environment," which made him "angry" and "upset."
However, a prosecutor determined that the attack didn't warrant arrest, and Çakıroğlu was released. Terzi then took to local media to air her frustrations. "He says, 'I beat those who do not dress appropriate,' and he gets released … I do not have any words to say … Where is the justice? Do I need to get killed?" Terzi said.
The news of Çakıroğlu's release quickly spread on social media, sparking outrage across the country. Women began posting pictures of themselves wearing shorts with the hashtag "#AyşegülTerzininSesiOlalim," which means "let's be the voice of Ayşegül Terzi," according to BuzzFeed.
In response to public outcry, officials decided to finally arrest Çakıroğlu on Saturday, but with the charge of "inciting animosity among society." Women's-rights campaigners took to the streets of Istanbul on Sunday to call attention to the country's lenient stance on violence against women.
A campaigner from anti-violence group We Will Stop Femicide said during the protest, "We do not ever want to lynch, we want the perpetrators to be punished in accordance with international law."