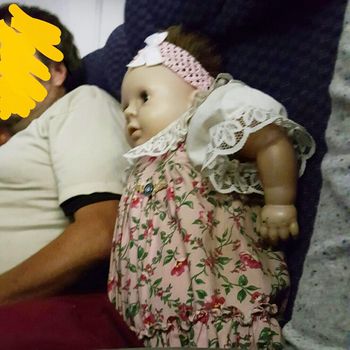 Barbara.
Photo: Courtesy of Twitter/NovicSara
Writer Sara Nović was seemingly living the dream on a recent red-eye flight, when she was seated in a row with an empty middle seat. Of course, that's until she noticed the seat was actually occupied by a terrifying baby doll.
Nović detailed her experience in this real-life horror movie through a series of tweets posted early Friday morning. The baby doll, as it turned out, belonged to the man sitting in the window-seat of her row. But don't worry, the man had actually bought the doll a ticket for the flight, although that proved problematic for the TSA.
You see, he purchased the ticket under the doll's name, Barbara. Nović wrote that she overheard the flight attendant explaining to the man that the ticket shouldn't go under the doll's name next time, since "the TSA was frantically trying to match the name and [birthdate] he provided" — until they realized the doll was not a person.
In addition to the doll, the man also brought "an entire bunch" of bananas with him to snack on during the flight. After a two-hour layover, Nović thought she was free of the man and his beloved Barbara — until she ended up sitting next to him again on her next flight.
Ah, the joys of travel.