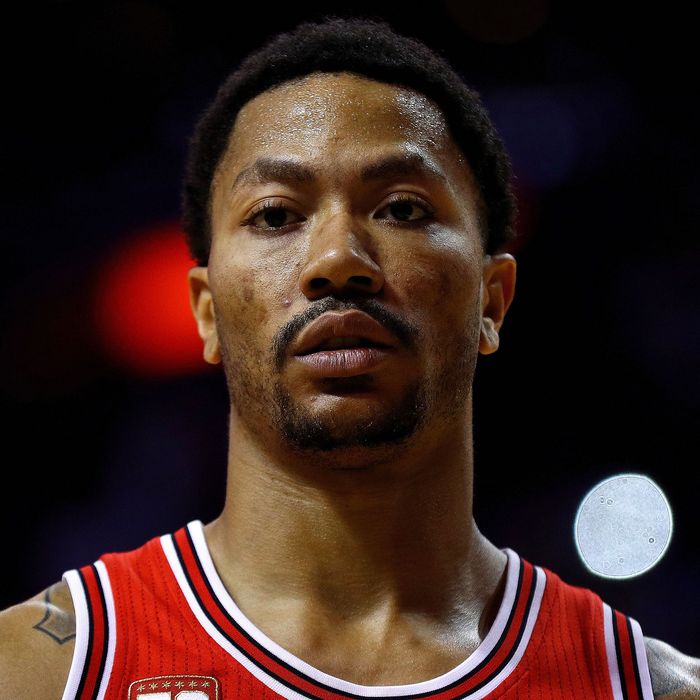 NBA player Derrick Rose.
Photo: Mike Ehrmann/Getty Images
Last summer a former girlfriend of NBA star Derrick Rose, who then played for the Chicago Bulls, accused him of gang rape. According to the suit, she dated Rose on and off for two years, and at the end of their relationship Rose invited her to a party at his Beverly Hills home. She said she was drugged at the party and left with a friend — later that night Rose and his friends allegedly broke into her apartment and raped her.
Although she's chosen to remain anonymous — the possibility of having her identity revealed is part of the reason she filed the case two years after the fact, she said — she spoke to ThinkProgress at length about her life before she was raped, her decision to file the lawsuit, and the repercussions.
She has good memories of her relationship with Rose, she said, and they would see each other fairly often while he lived in Los Angeles. But once he moved to Chicago, things changed. "If he would Skype me later in the day, that's when he would pressure me to either do stuff like take my clothes off or show myself on camera without my clothing and just touch myself, just do stuff to myself, and that was very uncomfortable for me," she said. "I said my phone wasn't working and my computer wasn't working. That was a lie."
They stopped talking, but she eventually reached out to him for closure. That's when he invited her to the party. "I felt that night was going to be the night where I'd know, okay, we're not going to be together going forward, or we're just going to remain friends," she said. But she began to black out soon after arriving.
What do you remember about the night of the alleged rape? I know that at a certain point you lost memory.
I started blacking out shortly after I arrived. It was in flashes. I remember burning my hand. I remember being at the fence where the gated yard was, which was very high up, and trying to throw the gemstones over the fence. That's mainly the last thing I remember before I started completely blacking out. I only remember from that point on music and yelling. I do remember the pool and being pushed out of the house by one of Rose's friends, I remember just being pushed out of the taxi.
From there I remember being in my apartment and throwing up and just trying to not throw up again, and then waking up just to the room being upside down and not being able to find my purse and having my clothes on and having a lot of… there was a lot of lubricant and the bed was wet. But I don't remember much. Like, I don't remember details.
It took her a while to piece together what had happened. And once she had, she didn't want to believe it. "I didn't want to feel like I was weak and like I was the victim and like my body failed me," she said. "I didn't want to feel like that person. And I never was  —  I was the total opposite of that. I couldn't even believe that was what had happened."
She's back in school, but she told ThinkProgress she suffers from anxiety and her self-confidence has taken a hit:
It does still come to me whenever I am trying to fall asleep, and whenever I don't have my books or my family in front of my face. I have a lot of nightmares. I have a lot of self-doubt when I do have to be in a social setting, just not knowing how far I can go. I don't want the same situation to happen again, so I am much more cautious.
She went on, "How do you prevent any girl from being raped, any girl from being blacked out? I never thought about before because I really believed that if you were living correctly that those kind of things didn't happen to you."