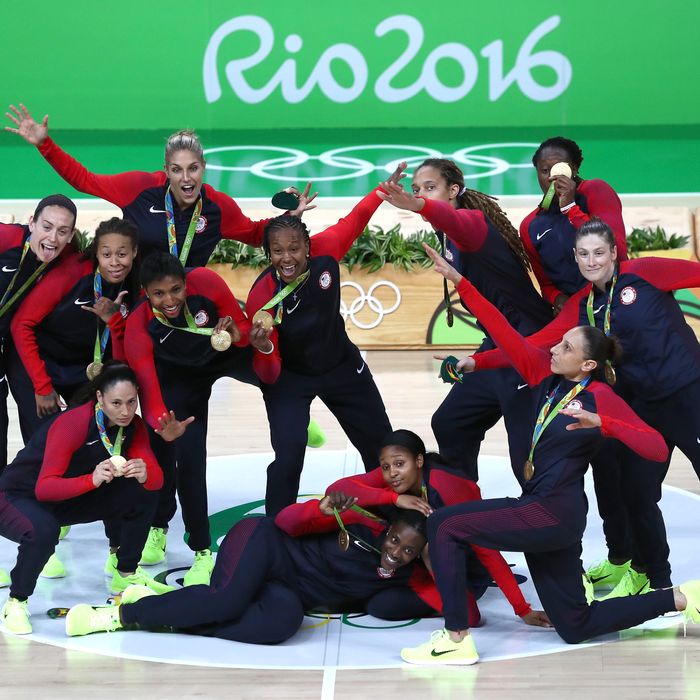 The U.S. women's basketball team won it's sixth-straight gold medal at the Rio Olympics.
Photo: Sean M. Haffey/Getty Images
The Olympics might be over, but the accolades aren't. The very best of the U.S. Olympians have a shot at wining yet another special distinction in the Team USA Awards held later this month in Washington, D.C. Under the "Best of the Games," the top Olympians are selected for three categories: best female athlete, male athlete, and best team. And, get this — only the women's teams were nominated for the latter.
The Team USA Awards already regularly honor the very best American athletes year-round, but in 2014, they started awarding the standouts of the Olympics and Paralympics. Included in the best female and best male categories are the well-known names of Simone Biles, Katie Ledecky, Michael Phelps, and Carmelo Anthony, among others.
That only women's sports were nominated in the team category shouldn't come as a surprise, though. U.S. female athletes won more medals than male athletes at the Rio Olympics. They also did particularly well in team sports like the women's 4x200m freestyle relay. And, they made history many times (like when track and field swept the 100m hurdles).
The five teams nominated for the awards are: gymnastics, basketball, rowing, water polo, and the track 400m relay team. The winners for all the categories will be chosen partly based on a fan vote along with input from journalists and the Olympics. No matter who wins, though, one thing's certain: Come awards night, there will be plenty of women giving acceptance speeches.