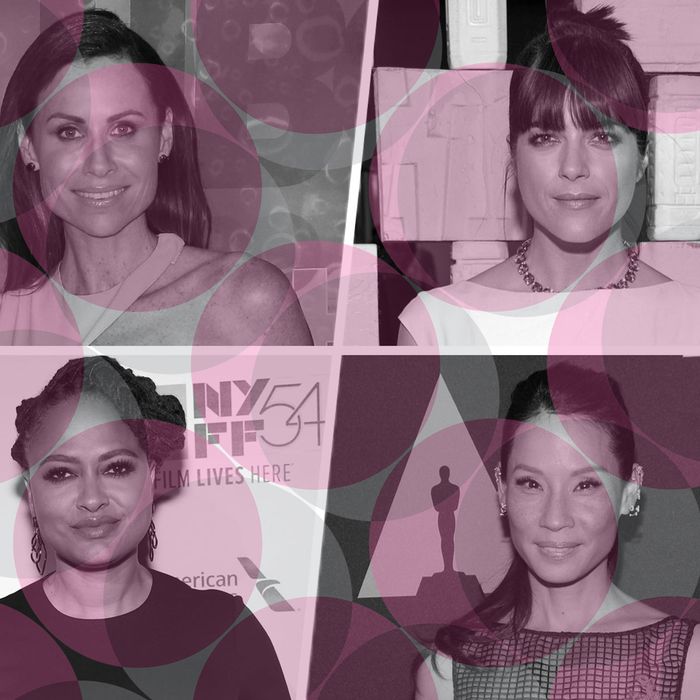 "Oprah Winfrey." — Ava DuVernay
Photo: Getty Images
Perfection is a moving target. This week, the Cut explores the allure of trying to achieve the impossible.
Who has the perfect life? The Cut posed this question to 13 celebrity women. Their answers varied from the Obamas to Beyoncé to Martha Stewart (who apparently thinks she's perfect, too). Others looked to British people, or themselves, or no one at all. Read on for answers from Ava DuVernay, Lucy Liu, Selma Blair, and more.
Cynthia Rowley, fashion designer
"One time I told Martha Stewart that my whole thing is to embrace imperfection, and she said, 'That is overrated. Everything about me is perfect.' I'm paraphrasing a little bit, but it was something to the effect of Imperfection is overrated, you should try to be perfect, like me … Wouldn't everyone say George Clooney and Amal? She is a genius. He's super sexy. They go to Italy all the time. I imagine them eating delicious food all the time and having heated conversations about the social injustices of the world. She's glamorous and has the perfect clothes. They have it all."
Yael Stone, actress
"Michelle and Barack. Lord, did you see her in the car, did you see her singing? A woman doesn't sing along like that unless she is really happy. The key with Barack is he grew up with the big ears, so he understands humility, but then he grew into his ears so he can still connect with all of us down here, because he knows what it is like to have big ears. I think she saw it early. They have it sorted out, and their kids seem kind of amazing."
Heather Burns, actress
"I want to say the Obama girls but [with] all this Secret Service and everything, I don't know how they think about it … they have really cool parents and I think they have a pretty perfect life. Politics is hard, so they might disagree."
Sarita Choudhury, actress
"A British life, like Dame Judi Dench's life. I imagine cups of tea, and irreverent humor. Whenever I see British people onscreen they have a way of making fun of the situation but still having a good time. In my own life, I feel when I'm in that situation it is not funny, and I want it to be. The British get it."
Ava DuVernay, director
"I'm really close to someone who a lot of people think has a perfect life: Oprah Winfrey. Even though I know her personally, I do think that she has a perfect life. She's not wanting for anything, and it doesn't come because of all the things that she has. She's not wanting for anything inside, in terms of friendships, relationships, no regrets about how she's treated anyone. She lives fully. It's not even about the houses and the planes and any of that. It's about who she is inside, and that's really helped me understand, Oh, you gotta get there before any of this even matters."
Lin Tucci, actress
"I don't know if it is a perfect life, but I am a huge Oprah fan and I love her journey. I'm an admirer of someone [who] has had ups and downs and is still creating new venues and new stories. Oprah is the bomb."
Minnie Driver, actress
"Someone with no mortgage in a small house with healthy children, a happy partnership, lots of animals, by the sea."
Alysia Reiner, actress
"The Dalai Lama or my favorite yoga teacher. They spend their day in service all day. My favorite days are when I am of service to the planet and I get to help lots of people walk through their pain. Those are my favorite days."
Lucy Lawless, actress
"What is the good life? That's a much more interesting question. I don't know anybody who has a perfect life. Who'd want it? How boring!"
Annette Bening, actress
"One of my dearest friends is Kathy Salter. I [babysat for her kids] and we became friends, and we have remained lifelong friends. She's 75, and she's just this really extraordinary woman who doesn't let any of the things that get in her way spoil her fun. She is really into her children, grandchildren, and her husband, and I look to her for inspiration."
Lucy Liu, actress
"I think it's hard to say what the perfect life is, really, but I really do have a great respect for a lot of the people I worked with in UNICEF and who work in the field. Those people to me are incredibly admirable. I think about them everyday actually."
January Jones, actress
"A perfect life? I'm living it. I'm happy most of the time. I think that's perfect. I think that's all that matters. And I'm very blessed in many ways, hashtag #blessed! I feel really lucky, and I get to do something that I love to do. I like going to work, which I don't think a lot of people get to say. I have a beautiful family, just got a new hamster. I mean, what's more perfect?"
Selma Blair, actress
"I don't know if it's someone that has nothing but wonderful food to eat in a village somewhere or if people would think it's Beyoncé. I think that a perfect life is surrounding yourself with people you love and having enough to eat and to have your health. And unfortunately, a lot of people don't have that perfect life."
Reported by Elisabeth Donnelly and Vanessa Rae Kalman at the Film Society of Lincoln Center's New York Film Festival; Summer Rej at PaleyFest: Made in New York; Carita Rizzo at the Hammer Museum Gala in the Garden; Katie Van Syckle at the premieres of HBO's Divorce and EPIX's Graves; and Jennifer Vineyard at the premiere of The Girl on the Train and New York Comic Con's Heroes After Dark party.