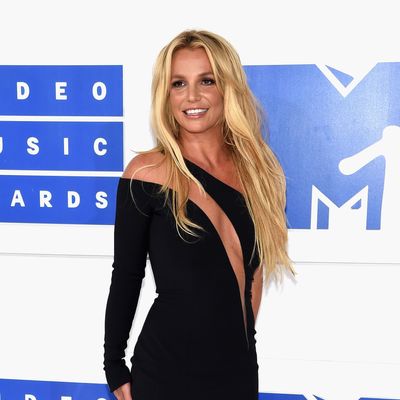 Photo: Jamie McCarthy/Getty Images
After a long hiatus from public life, Britney Spears has been back on the media circuit promoting her Vegas stage show and her new album, Glory, giving us a brand-new window into the curious mind of one of our most beloved stars. While she may not be our most loquacious celebrity (and has been known to duck out of the occasional interview), she has also been open about the things she cares about, like spirituality and rice, and the things she doesn't, like Taylor Swift and computers. Here are some of the greatest Britneyisms from the past few months.
On her twenties: "I like my 30s way more than my 20s. My 20s were horrible! [Being] in my teens was fun, but I like my 30s."
On dating: "A lot of men are about games. It's just the mind game with guys, the calling back and texting, it's just too much, it's silly. Actually, I'm not looking for men right now, I'm really happy with myself … I'm fine with the way I am."
On gratitude:
On protecting your heart: "I still believe in love and that sort of thing. But, I think you should protect your heart and stuff like that."
On marriage: "I may French-kiss someone, but I'm not going to marry anyone. I don't believe in marriage anymore."
On what she's looking for: "I like someone that's just nice overall — just a nice guy is really groundbreaking in this world."
On industry divas: "A lot of people are divas in the industry … it's better to go it alone, my friend."
On fame: "Sometimes I'm in denial that I'm really famous. It's too much, I think, for someone to reach that kind of magnitude to really understand it. I feel like when you're younger, it's easier. But when you're older, it's one of those things that's kind of like 'Huh? What is this? This is kind of crazy.'"
On computers: "I understand that a lot of people are into it, and I have days where I write and stuff, but it's really not for me. It's not my thing."
On reinvention: "I don't really see it as a comeback. I think I've never really left. I've always been here. So [it's] just like … maybe a reinvention of myself and just a different time in my life — a really good, glorious time."
On being boring: "I'm actually a very boring person. I don't go out. I don't really do anything. I should be Mother Mary, seriously."
On feeling:
On being happy: "I am in a really good place right now. I am loving and learning about myself every day and learning who I am. I'm awakening. It's cool."
On spirituality: "I believe we're all here for a reason. I think we're here just as people to pass it on and pass our information on to others, to inspire as much as we can. Inspire every day. And just to be good people, you know? And give back and help others."
On sushi: "I never ate sushi until a year or so ago. I thought the idea of raw fish was horrible. Then we had a day in a hotel in Vegas and she [her sister] ordered up every single bit of sushi they had and we sat there just eating everything. Now I'm hooked."
On hotels: "I've made my hotel [in Vegas], like, a home. It's like a mystical, beautiful boutique place."
On other career paths: "Sometimes I'm like, 'What am I doing? Like, I could be a teacher.' But then I see other people doing it too and I'm like, 'Well, you know, it's probably all they've known for so long, so it just kind of makes sense.'"
On patience:
On Hillary Clinton: "She's a great lady. She knows what's up."
On Justin Bieber: "Wait! Did you see what happened to him the other day? Didn't he, like, expose himself? That was insane! Like, I don't understand what went on there. Was that on the news and stuff? Oh … my God."
On Steven Tyler: "I love Steven Tyler; he's great. He's like rock-'n'-roll man, like just crazy cool. I think he exudes sex and electricity and you're just like a magnet when you get next to him."
On Taylor Swift: "I've never met her before."
On female solidarity: "I think sticking with other women, and you know, your gender really helps. No offense men!"
On dogs:
On her iconic first VMAs performance: "You know what, I don't remember at all. I have no recollection. I couldn't tell you anything about it."
On rice: "I like a lot of different rices. I like rice and jumbalaya … I like rice, I do. It's my favorite thing."
Never change, Brit.