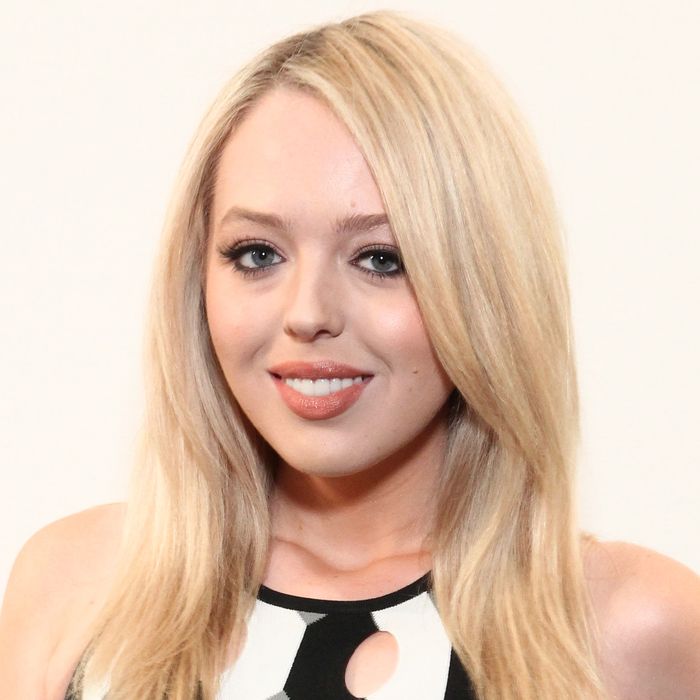 No comment.
Photo: Astrid Stawiarz/Getty Images for Taoray Wang
Up until now, Ivanka Trump and her bros, Donald Jr. and Eric, have been content to hold down the fort when it comes to Daddy Trump's campaign. According to the New York Times, little sister Tiffany Trump is getting ready to hit the trail with them. But not so ready that she agreed to be interviewed by the New York Times!

According to journalist Alessandra Stanley, "Tiffany did not consent to be interviewed for this article, although she did pose for its photo shoot. Instead, the campaign delivered a list of approved contacts. Other family friends who were not on the list said they were instructed not to speak without authorization."
The list of approved interviewees included Tiffany's mom, Marla Maples, Trump's ex-mistress-turned-wife; half-sister Ivanka Trump; a writer named Carson Griffith who documented the Hamptons comings and goings of Tiffany's crew (dubbed the Snap Pack) for Du Jour magazine back in 2015; a "close family friend" named Janice Kiker; Eric's wife, Lara Trump; a close friend from University of Pennsylvania*, Lara Maggs; and Johnson & Johnson heir and friend Jamie Johnson, who directed the doc Born Rich.
Maples told Stanley during a phone interview, "I had the blessing of raising her pretty much on my own," a statement that deserves a place in the Shade Hall of Fame.
Kiker shared an anecdote about Tiffany's attire to a birthday party for children. "Tiffany showed up in a faded, worn-out tutu. I was shocked. Then someone told me it had belonged to Shirley Temple. I said, 'Never mind.'"

Maggs said, "Unless she's with her dad, she's happy to fly coach. When we flew together from Philly, we were in the middle seats at the back of the plane."
Griffith told the Times, "She didn't seem like a party girl at all … She stayed in the city Friday night to finish a paper, and I never saw her drink a glass of wine."
Donald Trump offered a ringing endorsement via email. "Tiffany is a tremendous young woman with a big and beautiful heart. She was always a great student and a very popular person no matter where she went. I am incredibly proud of Tiffany and how well she has done. — DJT."
Glad we got that cleared up — especially the tutu thing.

* This post has been corrected to show that Tiffany Trump and Lara Maggs attended University of Pennsylvania, not Penn State