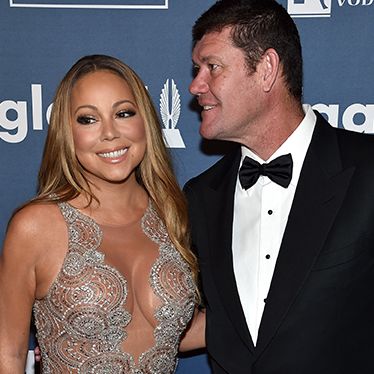 A reunion between these two might not be likely.
Photo: Dimitrios Kambouris/Getty Images for GLAAD
It was only yesterday — yes, only yesterday — that the rumors and stories started swirling about the demise of the relationship between Mariah Carey and James Packer. Sans detailed statements from each party, the public has to sift through the overlapping, seemingly contradicting stories presented by unnamed "sources" on the web.
And the he-said-she-said story goes a little like this: The singer with a voice from another planet and a penchant for bathing while wearing diamonds was reportedly too much of a lavish spender for the eccentric Australian billionaire. But maybe that's oversimplifying things. So, scratch that. They're trying to work it out. Actually, it was the other way around: He has "mental" issues, so she had to dump him. But wasn't she dancing with another man? (Something conveniently filmed for her reality series?) No, he wasn't "present" for her and her family. Wait, wait, she's just twisting what happened!

Is this all drama … just for drama's sake? Here's more or less what we do know: The relationship was reportedly going to be a focal point for Carey's upcoming reality-TV show, according to TMZ. Carey, though, hasn't seen Packer since a trip to Greece where the two had a fight, her rep told Entertainment Tonight on Thursday. "Mariah and James had a fight in Greece, and have not seen each other since," the rep said in a statement. "The fight was not because of any cheating allegations or excessive spending by Mariah." The same rep for Carey added that the couple is currently trying to "work it out," and will release a joint statement in the future. Packer's rep, however, responded by telling People, "This is simply untrue."

Then things got a little more complicated, thanks to more unnamed sources. One such unnamed source reportedly close to Carey told People that Carey dumped Packer because he wasn't in a "mentally healthy place." And that's where another "source close to the billionaire" chimed in with this goody: "[It's] typical Mariah to just twist things that don't sound good to her. They split because she has issues. James is definitely an oddball, but a brilliant great guy. To put her issues on James is ridiculous." Ouch. If this is all true, does this mean it's time to play Taylor Swift's "We are never ever getting back together"? Wait, that's not likely to happen.