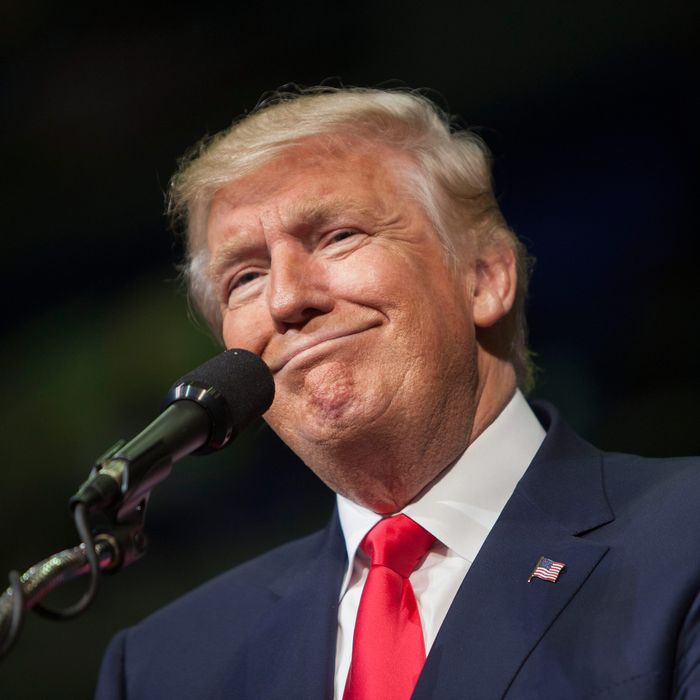 Donald Trump.
Photo: Jessica Kourkounis/Getty Images
Barbara Res, a former executive who spent 18 years working for Donald Trump, called the Republican presidential candidate a "supreme sexist," and said he thinks that "men are better than women."
In a new interview with the Daily Beast, Res spoke out about her experience working for Trump, starting in 1978. She served as executive vice-president and senior vice-president of the Trump Organization, and oversaw major construction and rehabilitation projects in Manhattan. Trump uses her as proof that he respects women at political rallies, though he doesn't identify her by name. However, Res told the Daily Beast:
"He's terribly sexist. He's a womanizer for sure. He hired me for a specific reason: Because I was really good. And he told me, and he believed this, that women had to work harder and be smarter and were willing to work harder than men, and that's what he wanted, and he had a couple of women working for him… 'Men are better than women,' he said, 'but a good woman is better than 10 men.' I think he thought I would take it as a compliment, and I think it was intended as a compliment."
Working for Trump was difficult for Res because she found him to be intolerable and a megalomaniac, but she loved her job. According to Res, Trump would brag to her about how many women were chasing him and that movie stars wanted to be with him. She saw him leering at women and putting his arm around them, though she never witnessed him committing any of the acts he talked about in the now-infamous Access Hollywood tape.
"He once said that, when his business was failing in the early '90s, he blamed it on the fact that his executives did a bad job while he was off, in his words, 'fucking women two and three at a time' — he said that," she said.
The full interview can be found here.