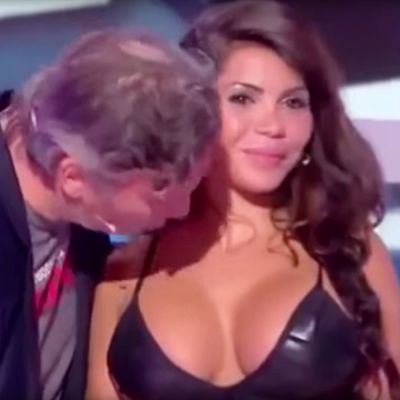 Jean-Michel Maire (left) and Soraya (right).
Photo: Courtesy of YouTube/TvRealityShow
A French television personality is under fire for kissing a woman on the breast without her consent on live television, during a reenactment of the Kim Kardashian robbery.
Jean-Michel Maire portrayed a man who had to break in and rescue Kardashian, portrayed by 21-year-old model Soraya, on the game show 35 Hours of Baba, according to Metro U.K. Maire, a panelist on the program, then went in for a kiss, which Soraya rebuffed, and so he instead kissed her on the breasts. Later, Soraya told L'Express that she was shocked by the assault, saying, "I'm a human being, not just an object."
Viewers across the country are furious, as the incident marks merely the latest sexist scandal in France. According to the BBC, there is now a backlash against "seduction a la francaise," which is "the traditional tolerance of male sexual opportunism, particularly by those in positions of power." The BBC reports that the French media regulator has received complaints from over 250 angry viewers, including France's women's-rights minister Laurence Rossignol, with many people calling for Maire to be prosecuted.
Maire reportedly watched the episode backstage and "laughed about it," according to Marianne, though he later sent out a "semi-serious" apology tweet. Meanwhile, Cyril Hanouna, the show's host, said he didn't think the kiss was "that serious."