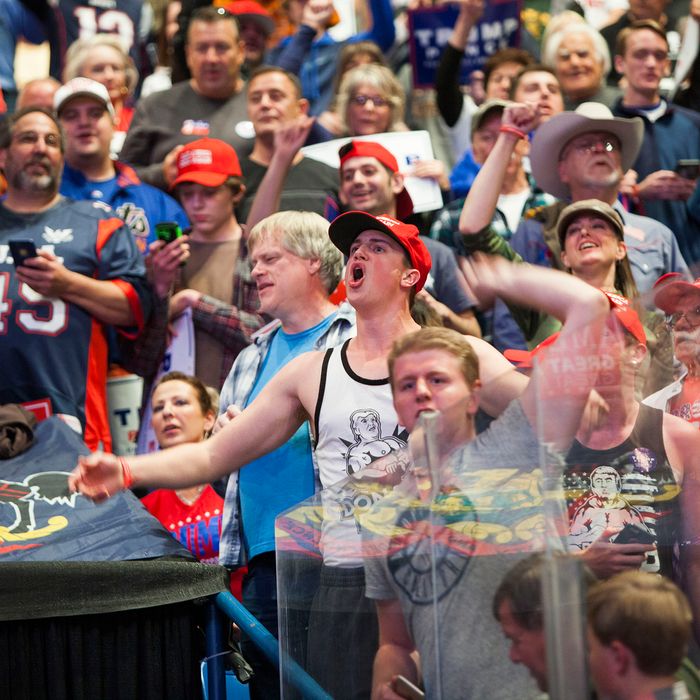 Supporters at a Donald Trump rally in Pennsylvania on October 10, 2016.
Photo: Jessica Kourkounis/Getty Images
The sight of protesters at a Donald Trump rally isn't exactly rare. There have, after all, been numerous incidents since the start of the campaign that have prompted many to show up and denounce the candidate. And after the latest scandal involving the 2005 video showing Trump bragging about groping women, it wasn't too much of a surprise to find there were protesters at one of his latest campaign events. But, what was surprising was how daring and provocative a certain protester was. Anna Lehane, an 18-year-old high-school student, showed up on Monday to a Pennsylvania rally for Trump while wearing a shirt that read: "Grab my pussy, I dare you." Yes. Did we already say she was daring?
Lehane told Elle that she handmade the shirt after becoming "disillusioned" with Trump's remarks in the video, and she added that she hopes people in the election will consider how every person's opinion matters. "It doesn't matter your race, gender, or age, whatever," she told Elle."You need to value yourself and what you're trying to say and you can't let anybody, no matter how powerful they may seem, quiet you."
Trump, for his part, hasn't exactly been friendly to protesters at his events, and has at times threatened them and kicked them out. Lehane managed to stay at the event without much incident, though she added that she felt more comfortable since she was joined by two of her friends, who wore shirts reading "Black Lives Matter." So, make that three daring teenagers.

In the end, Lehane wasn't physically harmed, but noted that there wasn't exactly a shortage of "weird comments by creepy old men." "One man, he looked to be my grandfather['s age], honestly, he said 'I always like a good dare.'" Cringe here as much as you'd like.