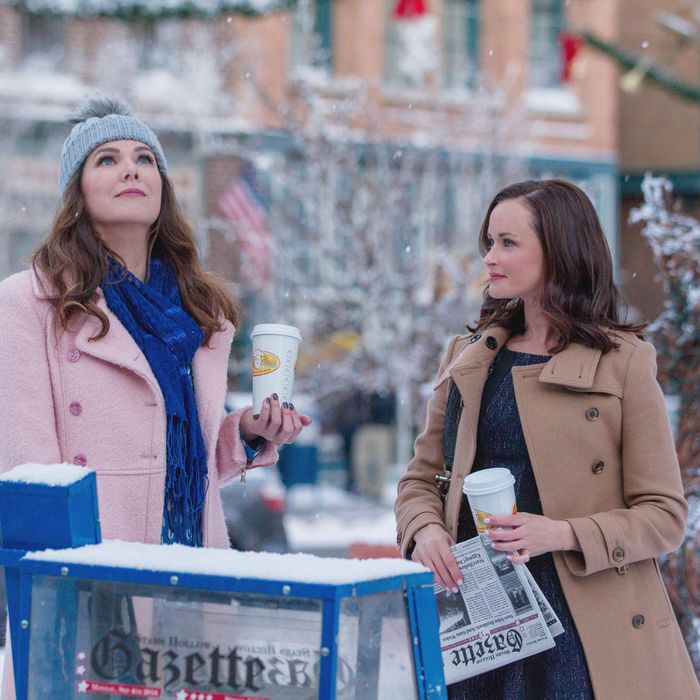 Photo: Saeed Adyani/Netflix
Just as Alice Liddell did for Alice in Wonderland, Riff Raff did for James Franco in Spring Breakers, and inculcated fear did for Donald Trump's presidential campaign, the town of Washington Depot, Connecticut, served as the inspiration for "Stars Hollow," the fictional Connecticut town in which Gilmore Girls is set. On the weekend of October 21, over a thousand Gilmore Girls fans and, I believe, over a million reporters gathered there for the first-ever unofficial Gilmore Girls fan festival: Gilmore Girls Fan Fest. It was very rainy.
The festival spanned three days, cost $175 for general admission and $250 for VIP, and featured cast member meet-and-greets, two panels (one featuring crew and one featuring cast), trips to see the inn that inspired the Independence Inn, and events like a "living art" show and a knit-a-thon that made you think, "Oh, yes — like on Gilmore Girls." The festivalgoers were ebullient white women of all ages, but mostly of the age late-twenties. It was very rainy. Did I mention that it was very rainy? It rained the whole time, and on Saturday it was also very cold, which I assure you is not a complaint and is instead merely a statement of fact.
On Friday, the series' pilot played on a loop in the festival's main tent, projected onto a large screen, while fans familiarized themselves with the town. Amy Sherman-Palladino conceived of Stars Hollow while walking around Washington Depot, and the comparisons were easy to draw. Sandwich boards advertised town events, all of the stores were independently-owned, and if the friendly locals were unhappy about the influx of Gilmore Girls fans they hid it sociopathically well. The picturesque foliage made it seem as though Washington Depot were frozen in time, a town on a Hollywood lot constructed to exist forever in a state of beautiful autumn.
Around town, there was a bookshop, decorated with a banner that read "RORY READS AND SO DO WE"; a grocery store, reminiscent of how there was a grocery store on Gilmore Girls; and a Town Hall that employed a real Town Selectman. There were also a number of little shops offering, in addition to their usual wares, unofficial Stars Hollow–themed merchandise. Did I buy a Stars Hollow magnet for an astounding $12? None of your business.
Since it was announced last October that Gilmore Girls would return to Netflix for a new season, Gilmore Girls fandom and, in response, Gilmore Girls fandom backlash have reached a fever pitch. Many fans grew up watching the show and love it dearly, seeing themselves, or what they'd like to be, in the intelligent, strong, quippy leads. Many of its detractors are sick of seeing so much Gilmore Girls shit online all the time. Though it's true that there is too much Gilmore Girls shit online all the time, the voicing of the latter is often more exhausting than the former. Because of that, it was … maybe not "refreshing" but at least less tiresome to be surrounded by women unaffected by the Gilmore saturation. There was no winking at the festival's absurdity, no self-conscious rolling of eyes. Just a large number of women standing in the rain, talking to each other exclusively about Gilmore Girls, on their way to Gilmore Girls–related events, wearing Gilmore Girls–related clothing. They were just being themselves, and themselves is: Gilmore Girls.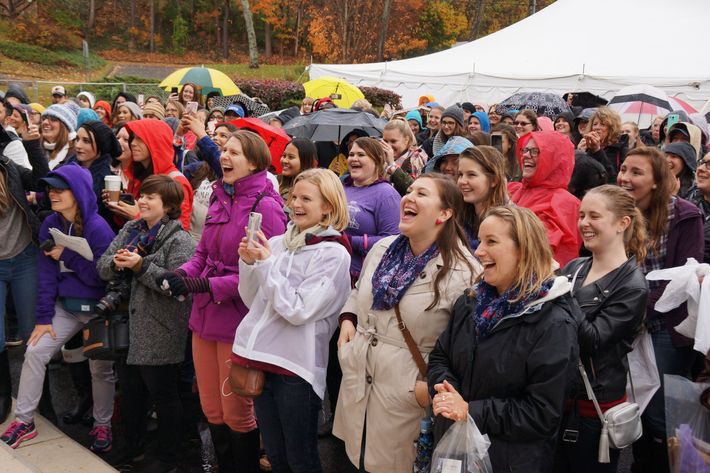 If you were to say it was sort of like a Gilmore Girls Comic Con, well, I wouldn't stop you.
Much of the Gilmore clothing came from Friday's most popular feature, aside from the night's panel discussion: a T-shirt booth. The T-shirt booth maintained a slow-moving line of about 60 people from 3 p.m., when festivalgoers arrived, until 6 p.m., when they got into place for the panel. The shirts were from Kindred Handicrafts, a store that specializes in clothing featuring Gilmore Girls references that would be, outside of mega-fandom, largely unrecognizable. ("I just got hit by a deer." "Copper Boom." "12.8.") And, damn. Everybody was going fucking crazy for these shirts. (Pardon the curse.)
"I'm probably buying like six," the woman standing ahead of me told her friend. "That's okay," said her friend, supportively. "I support that." Word traveled down the line that, in addition to the shirts advertised in our Fan Fest guide, the shop had an "I Smell Snow" shirt. Wow. From the reaction to the "I Smell Snow" shirt news, you would have thought the women in line had just heard the T-shirt booth also sold a HAARP device that, when purchased and used according to its instruction, made it stop raining so fucking much all the time. (Pardon the curse.) But, no — just the "I Smell Snow" shirt.
All of the women within earshot except for one pledged to buy an "I Smell Snow" shirt.
At the panel that night, host Michael Ausiello, editor-in-chief of the TV news website TV Line, asked who in the crowd had traveled the farthest. "Rhode Island," someone shouted. "Austin," someone shouted. After a few beats, someone else shouted, "… LONDON!" Hm. To me, that seemed like a lie. If you were from London, wouldn't you have shouted "London" right away?
The Saturday-morning activities were meet-and-greets — which the festival guide called "workshops," oddly — with Sean Gunn (Kirk), Ted Rooney (Morey), Keiko Agena (Lane), Rose Abdoo (Gypsy), Mike Gandolfi (Andrew), Biff Yeager (Tom), and Vanessa Marano (the dreaded April). Each allowed fans a moment to pose with the actor, tell the actor they love Gilmore Girls, and, if they wanted, buy something non–Gilmore Girls–related the actor was selling or donate to a charity the actor was representing. All of the meet-and-greets happened at essentially the same time and they all had long lines, especially Kirk's and Lane's, making it difficult to hit more than one or two. Damn. Nearly all of the lines formed outdoors in the pouring rain. Damn.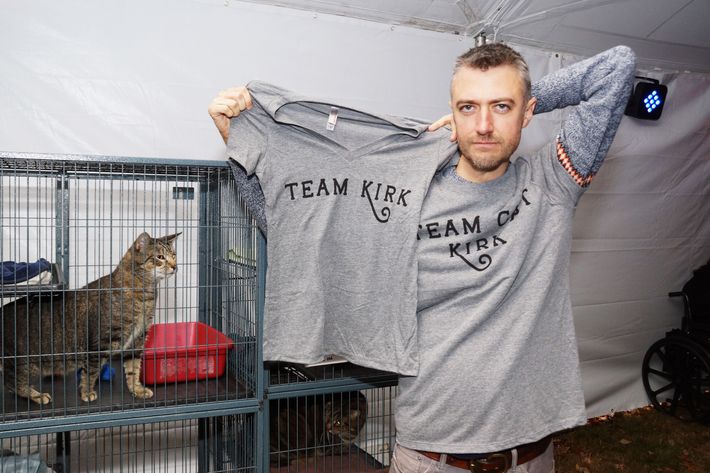 Even for die-hard Gilmore Girls fans, it was hard to come up with something to say to the actors other than "I love Gilmore Girls." A woman told Keiko Agena that she went to school for music. ("That's great!," Keiko replied.) A woman asked Sean Gunn, who was representing the New Milford Animal Welfare Society, which one of the cats available at the festival for adoption was his favorite. ("Well, I just met them and it's hard to get to know them in this setting," said Sean.) The very first woman in line to meet Vanessa Marano (the young woman who played Luke's daughter, April Nardini, Gilmore Girls' most hated character because her existence broke up Luke and Lorelai) said to her immediately: "The problem was HIM. NOT you."
I guess that person did have something to say, actually.
School buses were available throughout the day to take festivalgoers on short trips to the Mayflower, where Amy Sherman-Palladino wrote the first few scenes of the series, and to New Preston, another town in Litchfield County, to see a dance recital introduced by Liz Torres (Miss Patty).
Standing in the rain outside the Mayflower, an employee told us about Amy Sherman-Palladino's fateful stay with language that seemed to imply Amy Sherman-Palladino was either dead or a ghost. Heads tilted toward the merciless sky, our eyes gazed upon the inn's windows, any of which could have been Amy Sherman-Palladino's windows while she was on vacation 17 years ago. "You can just imagine her looking out onto the lawn and seeing Sookie's wedding. Or over the lake and seeing Rory and Jess's first kiss," said the Mayflower Inn employee.
It's true, I could imagine it. And it was very spooky.
Between bus trips, I stopped at the main tent where costume supervisor Valerie Campbell was scheduled to take questions while standing in front of a screen showing Gilmore Girls episodes. A large crowd was there to see her. "Have you seen Milo's new show yet?" someone asked. She has, and she loves it. "I've heard everyone talking about table reads. What is a table read?" another woman asked. Valerie — again, the costume supervisor — told her what a table read is. "How do shows hire writers?" Valerie did her best to answer but explained, very kindly, that she wasn't really involved in either the writing or the hiring of writers. Yes, Valerie's Q&A was a wonderful place to give voice to pretty much anything we were wondering about, just in general. "Valerie, why won't it stop raining?" I wanted to ask.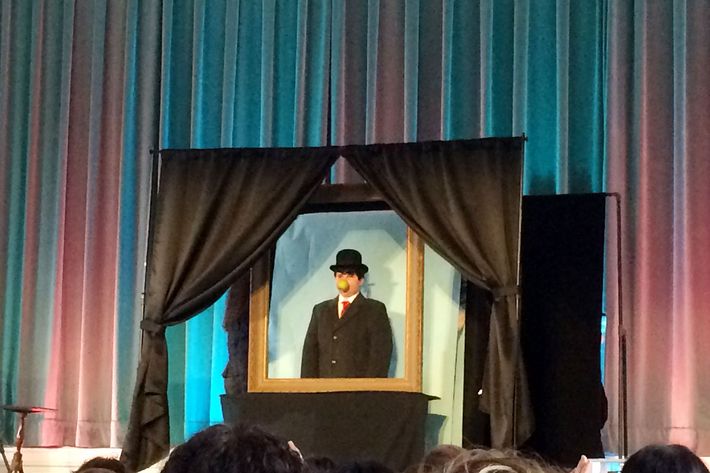 At the Town Hall, children dressed up as paintings for ASAP Presents: Living Art "Classic Portraits." If I can be honest, I thought "living art" was just a thing Gilmore Girls made up. It is not. There I was, watching children do it, and it was great. An interesting thing about the living art was the younger children were able to stand still in their poses longer than the older children were. I think this is because the older children wanted to show that they didn't care too much about it and were, in fact, "cool." I wish I could have talked to them. I would have said, "My young friend, you already have your face painted as a Picasso self-portrait. What's done is done."
Like every interaction carried out over the entire weekend, the interactions that took place on the bus to New Preston were unfailingly polite. "Thank you so much," women said to the driver. "Thank you," women said as they sat down. "Thank you," "thank you," women thanked each other from across the bus aisle as they stood up. The day was miserable, but everyone — mothers and daughters, groups of female friends, a few couples — seemed happy, excited, and overwhelmingly grateful. When asked how the weekend lived up to their expectations, many gave a response that would have sounded calculatedly diplomatic if it didn't seem so overwhelmingly genuine: It was just so nice to be around so many other Gilmore Girls fans.
In New Preston, we stood in line for half an hour waiting to get into the fucking dance recital. (Pardon my curse.) It was very cold. Though spirits remained outwardly high, it only took a little nudging — a woman saying, meekly, "I didn't think so much of this would be standing in lines" — to pry loose a few complaints. "We waited in the rain for the Lane thing for an hour and a half and then they cut off the line and we didn't get in," one woman said. "This is awful," said another. After that bit of darkness, spirits brightened again when we were finally let inside.
Though Miss Patty was a dance instructor, Rebecca Darling's D-Tour Dance Company's addition to the festival was much more Bunheads — Amy Sherman-Palladino's series about ballet students in a quirky town and their young, cool ballet instructor — than it was Gilmore Girls. That is not a complaint. It was also like being at a child relative's dance recital, except you don't get any family credit, which is also not a complaint. I will watch children perform ballet all day — I don't care. Try me. Like Bunheads, the dance company had a very clear "Sasha" character. She was much better than the others, not to rank children. I hope, if she sees this, she doesn't get a big head. It never did Sasha any good.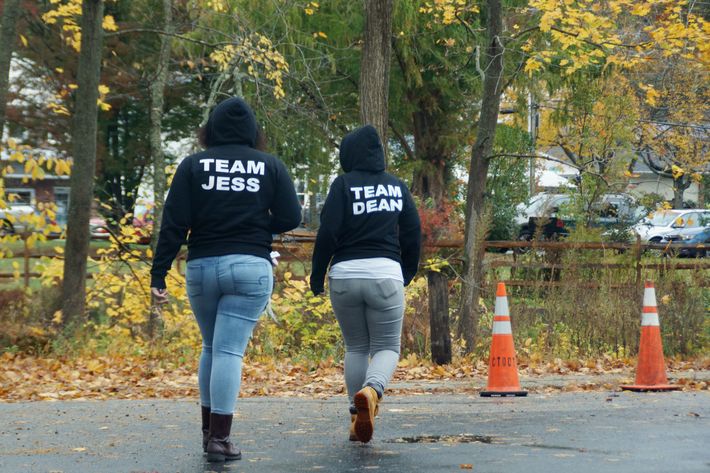 In the Town Hall balcony before Saturday night's panel, reporters mingled with cast members, asking them how they felt when they heard about the revival (good), how they managed to get back into character after all these years (it was easy), what they thought about the festival (it's been great), and whether they are "Team Jess" or "Team Dean" (Team Jess, but Sean Gunn is Team Logan). Like the non-reporter fans, the reporter fans seemed mostly to want to express their love for the show. Everyone was excited and grateful and very unprofessional.
The Gilmore Girls Comic Con was maybe not for everyone. For one, it was rainy. For another, maybe not everyone loves Gilmore Girls. But there are few times in life when one gets to dive so deeply and shamelessly into her small, dorky obsession, and it was nice to see a thousand women all doing that together, and doing it so joyously. It isn't a grand realization, but there wasn't a grand realization to be had. It was just nice.
On Sunday morning, festivalgoers gathered to watch the season-seven finale before heading home. The weather was beautiful.