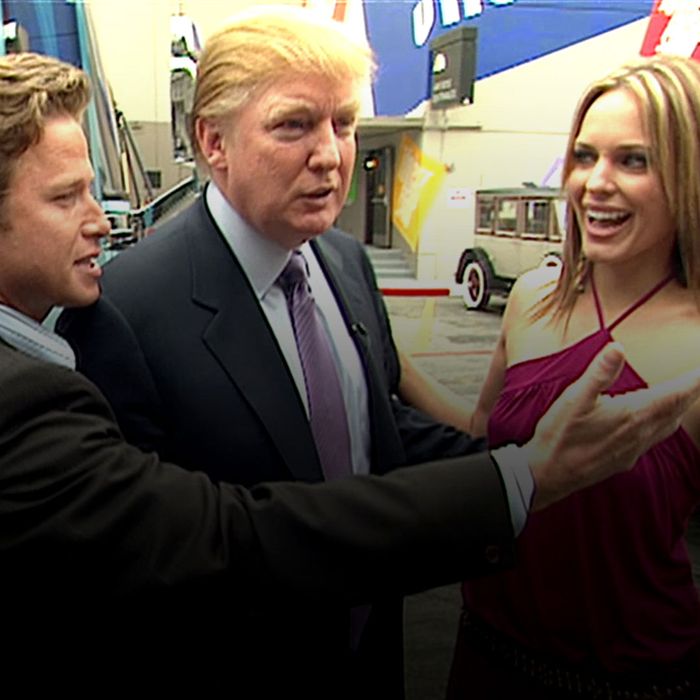 Arianne Zucker with Donald Trump and Billy Bush in 2005.
Photo: Obtained by The Washington Post/Getty Images
In a 2005 Access Hollywood tape, Donald Trump told Billy Bush he "[needed] to use some Tic Tacs, just in case [he] start[ed] kissing" actress Arianne Zucker. He went on to say he often "just starts kissing" women — "It's like a magnet. Just kiss. I don't even wait." He went on:
"And when you're a star they let you do it. You can do anything. Grab them by the p—y. You can do anything."
The comments were recorded on a bus on the set of Days of Our Lives, where Trump was set to make a cameo. They've spurred a flurry of sexual-assault allegations from women who've come into contact with Trump over the years, but on Thursday Zucker told Today that they didn't surprise her.
When asked if she were "shocked" by the comments, Zucker replied, "Not with that personality, I wasn't shocked, which is probably why it doesn't mean a lot to me." She added that the comments are "offensive for women, period," and called his apology, which labeled the comments locker-room banter, "interesting."
Zucker said she is planning to vote, but she wouldn't tell Today for whom.