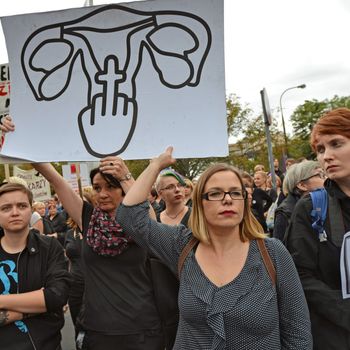 Thousands of women protested Poland's abortion ban on so-called Black Monday.
Photo: Kommersant via Getty Images
On Monday, an estimated 116,000 people in Poland — most of them women dressed in black — walked off their jobs to protest the country's proposed abortion ban. Abortions are already illegal in Poland, but the law makes exceptions for cases of rape, incest, badly damaged fetuses, or if the mother's life is at risk. But the country's right-wing government had moved to criminalize all abortions, regardless of circumstance.
Following the protests, however, conservative leaders seem to have backtracked; Jaroslaw Gowin, the minister of science and higher education, reportedly said the protests by women have "caused us to think and taught us humility." Gowin's comments seem to indicate that Poland's government will withhold support from the proposal, which was introduced by an anti-abortion initiative.
Poland's Senate speaker, Stanislaw Karczewski, echoed Gowin's remarks, saying the upper house wouldn't move forward on a bill to amend the abortion law; he said senators will wait to see what the country's lower house of parliament does before proceeding.
The country is also under international pressure to oppose the ban, with a debate scheduled for Wednesday in the European Parliament on the situation of women in Poland. Pro-choice advocates have called the ban "a barbarian proposal that will move Poland back to medieval times," but proponents argue that the ban would not infringe on women's rights.