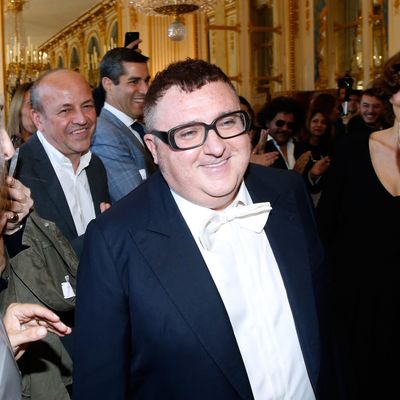 Photo: Bertrand Rindoff Petroff/Getty Images
Alber Elbaz has been lying low since his not-so-smooth departure from Lanvin. Other than gracing Instagram with his signature doodles and speaking out in a candy- and Kleenex-filled appearance at Parsons, the designer has been relatively silent. But he's slowly making moves back into the public eye. On Monday, Elbaz was made an Officer of the Légion d'Honneur by the French government, with fans like Demi Moore and Kristin Scott Thomas looking on.

At the ceremony, he announced that he will be, like fashion insiders Grace Coddington and Dries van Noten before him, launching a fragrance, to be called Superstitious. The perfume, made in collaboration with Frederic Malle, comes out in March, according to a release from the company. Elbaz said of himself and Malle in the statement, "We are both superstitious," adding, "It's not about a collaboration, it's about friendship and respect." There was no word on what Superstitious would smell like, but given Elbaz's attitude toward the past year of tribulations, we doubt it will have top notes of regret.