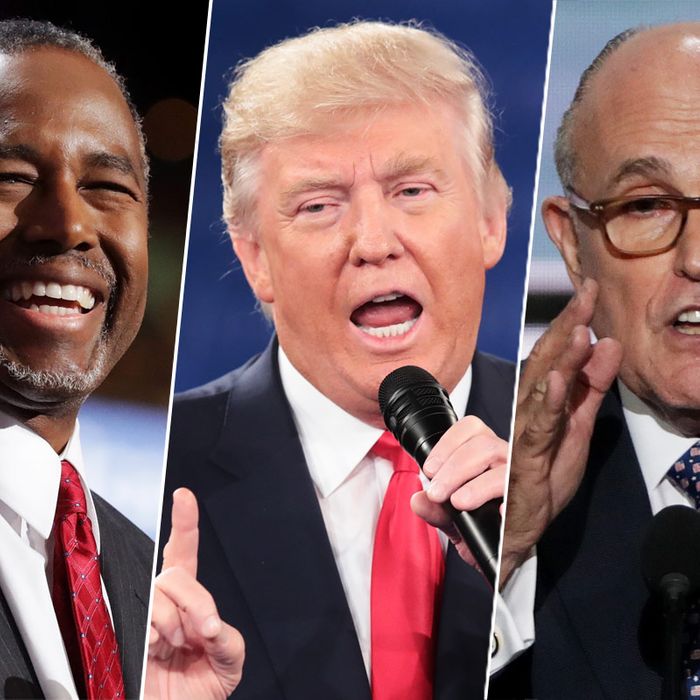 Rudy Giuliani and Ben Carson are two of Trump's staunch supporters.
Photo: Getty Images
Since an Access Hollywood tape of Donald Trump bragging about sexually assaulting women was made public, more than 50 Republican leaders have publicly disavowed him. That list includes such well-known names as John McCain, Condoleezza Rice, and John Kasich, but absent are several of Trump's most loyal supporters, many of whom have since defended him to the press.
Ben Carson
Mere days after the Access Hollywood tape was made public, Ben Carson appeared on CNN to discuss the comments Trump made in 2005. Echoing Trump's apology, which referred to the dialogue as "locker-room talk," Carson told anchor Brianna Keilar, "That kind of banter goes around all the time. Is it the right kind of thing to do? Absolutely not." When Keilar replied that she'd never heard banter of that sort, Carson said, "I'm surprised you haven't heard that. I really am … Maybe that's the problem."
Carson was a guest on Morning Joe the following Friday, where he became entangled in a heated exchange with Joe Scarborough over whether or not the women who've alleged Trump groped them are telling the truth. When asked if he had any insight into the evidence the Trump campaign would present to refute the allegations, Carson replied, "I do not have any insight into the evidence, but I do have common sense. For instance, if somebody is sitting next to you in the first-class section of the airplane, there are stewardesses, there are other people around, and there's just gigantic arm rests. What happened to all those things?" He went on to characterize the allegations as "things that really don't matter that much," and later called for reporter Katty Kay's microphone to be turned off when she tried to press him on the issue.
Chris Christie
When Chris Christie skipped the second presidential debate, some speculated he'd abandoned Trump for good. And although he did denounce Trump's comments in the Access Hollywood tape on a radio show last week, he nevertheless said he still supports Trump as a candidate.
"I was there when he found out about it and there's no question in my mind he's embarrassed by it," Christie said during an interview with WFAN Radio. "I've known him for a long time and I'm really upset by what I heard, but in the end this election is about bigger issues than just that so at this point I still support him."
Jeff Sessions
After the second presidential debate, in which Anderson Cooper pressed Trump on his 2005 comments about groping women, a reporter for the Weekly Standard followed up with Trump surrogate Jeff Sessions. Sessions called the tape "very improper language," but said what Trump described wasn't a crime. "I don't characterize that as sexual assault," he said. "I think that's a stretch." Sessions later released a statement saying his comments were "mischaracterized," but still failed to say outright whether he viewed Trump's actions as sexual assault.
Sean Hannity
When Sean Hannity sat down with all three of Bill Clinton's accusers last Thursday, he didn't mention the growing number of women who claim Trump touched them inappropriately and without their consent. Instead, he did damage control for the Trump campaign by asking Juanita Broaddrick, Paula Jones, and Kathleen Willey to go through their stories of being assaulted by Bill Clinton.
He then asked the women whether the media had reached out to them for interviews, to which they said no — even though, as the Daily Beast's Olivia Nuzzi reports, each woman has been contacted at least once with an interview request from the media, and BuzzFeed News recently published a lengthy profile on Broaddrick. Some expected a rift in the Trump-Hannity bromance when Trump canceled his appearance on Fox News's Hannity, but per Variety, he's expected to reschedule.
Rudy Giuliani
Rudy Giuliani appeared on CNN on Sunday — after a week in which nine women accused Trump of sexual assault — to defend the Republican nominee. "I believe my friend Donald Trump when he tells me he didn't do it," he said. And although he didn't call Trump's accusers liars outright, he did question their credibility.
"I don't know about the nine women," Giuliani said. "I haven't studied the case. I'm a lawyer. I'd have to study each case to tell you that. I'm not going to engage in Clinton-type conduct in attacking. I'm just telling you that I believe he's telling the truth. I do not believe — some of these cases appear to me on their face to be kind of untrue."
Jerry Falwell Jr.
Liberty University president Jerry Falwell Jr. endorsed Trump back in January, calling him "a successful executive and entrepreneur, a wonderful father and a man who I believe can lead our country to greatness again." His was one of Trump's most important evangelical endorsements, and he's stuck by the GOP nominee in spite of protests from evangelical women.
"I think this whole videotape thing was planned," Falwell Jr. said on a podcast after the Access Hollywood tape was made public. "I think it was timed, I think it might have even been a conspiracy among the establishment Republicans who've known about it for weeks and who tried to time it to do the maximum damage to Donald Trump." He went on: "I've got a wife and a daughter, and nobody wants to hear their women talked about in that manner … We're all sinners, every one of us. We've all done things we wish we hadn't. We're never going to have a perfect candidate unless Jesus Christ is on the ballot."
Mike Pence
After the Access Hollywood tape was released, Mike Pence's events disappeared from the Trump campaign's website, and Pence released a statement saying he was "offended" by the remarks and that he could neither condone nor defend them. But Pence was back on message Sunday, saying (despite allegations to the contrary) that Trump "made it clear that it was just talk, not actions." He went on, "I know there's been unsubstantiated allegations that have been made, but Donald Trump's made it clear that he categorically denies those allegations."
When asked whether he thought Trump was treating his accusers as "roughly" as Clinton allegedly treated Bill's, Pence shot back with, "What about, what about calling half of our supporters a basket of deplorables? What about the emails that came out this week?"
Peter Thiel
Thiel hasn't vocally defended Trump, per se, but he made a gesture that arguably speaks even louder: On Saturday, the New York Times reported he'll contribute $1.25 million to Trump's campaign. According to "a person close to the investor," the money will be distributed "through a combination of Super PAC donations and money given directly to the campaign." Thiel is one of the few Silicon Valley moguls to donate to Trump, and the timing is not insignificant.
We will update this post as we learn of additional supporters.