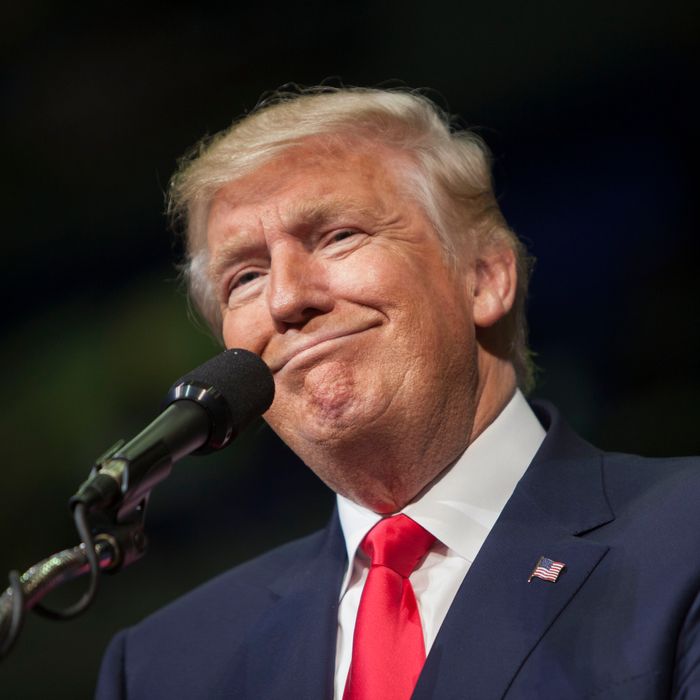 Donald Trump.
Photo: Jessica Kourkounis/Getty Images
It was just weeks ago that a tape emerged of Donald Trump bragging about sexually assaulting women. Since then, Trump has been accused of harassment and assault by a number of women, with several coming forward to share their harrowing stories of alleged misconduct by a so-called "megalomaniac" who also happens to be running for president. The Cut has compiled a list of all the new allegations against Trump, as well as past accusations of assault, harassment, and discrimination by women.
Kissing a Former Miss USA Contestant Twice Without Consent
Former Miss USA contestant Temple Taggart McDowell claims Trump kissed her on the lips on at least two occasions without consent when she was just 21 years old. In 1997, McDowell was representing Utah in the beauty pageant, and was "shocked" that he thought he had the right to kiss her on the lips, according to the Daily Beast. After one of the kisses, a woman who accompanied her to Trump Tower allegedly warned her not to go into a room alone with Trump. McDowell told NBC News, "I would never approach or greet somebody like that unless it was somebody that I had been dating." Trump has called the accusation "ridiculous."
Groping a Woman Sitting Next to Him on a Plane
In a New York Times report published October 12, Trump was accused of fondling the breasts of Jessica Leeds when she was 38 years old. Leeds, now 74, reportedly met Trump in the first-class cabin of a flight to New York more than 30 years ago, and claims he also attempted to reach under her skirt during the flight. She called the incident "an assault." Trump has vehemently refuted the allegation.
Kissing a Receptionist at Trump Tower Against Her Will
Another revelation from the incendiary New York Times report: In 2005, receptionist Rachel Crooks was allegedly assaulted by Trump in the elevator at Trump Tower. She was working as a receptionist for a real-estate firm in the building when she ran into Trump in the elevator. After they shook hands, he allegedly refused to let go, kissed her on the cheeks, and also on the mouth. "It was so inappropriate," Crooks told the Times. "I was so upset that he thought I was so insignificant that he could do that." Trump has also denied this allegation.
Saying He'd Date a 10-Year-Old Girl in Ten Years
Newly emerged footage from CBS shows Trump talking about a 10-year-old girl's physical appearance. In the tape, Trump joked: "I'll be dating her in ten years. Can you believe it?"
This isn't the first time Trump has been accused of making inappropriate remarks about young women. He famously commented in 2006 that if Ivanka weren't his daughter, he'd "perhaps" be dating her, and also gave Howard Stern the okay to refer to Ivanka as a "piece of ass." He commented that then-12-year-old Paris Hilton caught his eye, telling Stern, "I've known Paris Hilton from the time she's 12, her parents are friends of mine, and the first time I saw her she walked into the room and I said, 'Who the hell is that?'"
Telling Another Group of 14-Year-Olds He'd Date Them in a 'Couple of Years'
The Los Angeles Times reports that a wire brief from the Chicago Tribune in 1992 also references an instance when Trump made a joke about dating a young girl years in the future. The wire brief describes Trump outside the Plaza Hotel interacting with a youth choir group. After finding out that the girls were 14 years old, he said, "Wow! Just think — in a couple of years, I'll be dating you." Trump was 46 at the time.
Sexually Assaulting a People Magazine Writer
Natasha Stoynoff, a staff writer at People, came forward as an alleged victim of Trump on October 12. In an essay, Stoynoff wrote that Trump assaulted her and forcibly kissed her in 2005 while she was on assignment for the magazine. At the time, Stoynoff was asked to interview Trump and wife Melania on their one-year anniversary at Mar-a-Lago. While there, Trump allegedly insisted upon giving her a tour. Stoynoff wrote:
"We walked into that room alone, and Trump shut the door behind us. I turned around, and within seconds, he was pushing me against the wall, and forcing his tongue down my throat. Now, I'm a tall, strapping girl who grew up wrestling two giant brothers. I even once sparred with Mike Tyson. It takes a lot to push me. But Trump is much bigger — a looming figure — and he was fast, taking me by surprise, and throwing me off balance. I was stunned. And I was grateful when Trump's longtime butler burst into the room a minute later, as I tried to unpin myself."
Afterward, Trump reportedly told Stoynoff that the two were going to have an affair. The writer says she didn't report the assault at the time, as she both blamed herself and wrote it off as one of the risks associated with her job.
Groping a Woman at Mar-a-Lago
Mindy McGillivray claims Donald Trump groped her 13 years ago while she was visiting Mar-a-Lago with her companion, photographer Ken Davidoff. According to the Palm Beach Post, Davidoff brought his friend McGillivray with him to the estate while he covered a concert by Ray Charles. Only 23 at the time, McGillivray allegedly had her ass grabbed by Trump while he stood next to his then-fiancée, Melania.
She said, "All of a sudden I felt a grab, a little nudge. I think it's Ken's camera bag, that was my first instinct. I turn around and there's Donald. He sort of looked away quickly. I quickly turned back, facing Ray Charles, and I'm stunned.'' McGillivray claims Trump also flirted with her a year earlier when she attended a different event with Davidoff.
Groping Miss Washington USA 2013
In a Facebook post earlier this year, former Miss Washington USA Cassandra Searles claimed Trump grabbed her ass and invited her back to his hotel room, according to Rolling Stone. She called Trump a "misogynist" and accused him of treating women like cattle. Searles wrote that he "lined up [contestants] so he could get a closer look at his property," a claim that has been corroborated by Paromita Mitra of Mississippi.
Walking in on Teen Pageant Contestants While They Were Changing
Four women who competed in the 1997 Miss Teen USA beauty pageant have accused Trump of walking into their dressing room while the contestants were changing, BuzzFeed News reported. Mariah Billado, a former Miss Vermont Teen USA, told BuzzFeed News that the contestants (who ranged in age from 14 to 19) were "just scrambling" to grab whatever garments they had when he walked in. She said, "I remember putting on my dress really quick because I was like, 'Oh my god, there's a man in here.'" Trump reportedly said something along the lines of, "Don't worry, I've seen it all before."
Groping Makeup Artist Jill Harth in 1997
Makeup artist Jill Harth filed a lawsuit against Trump in 1997, accusing him of cornering her and groping her in his daughter's bedroom. Harth and Trump allegedly first met in December 1992 during a business presentation — she and her former romantic partner George Houraney wanted him to back their American Dream festival — and Trump is accused of "subjecting her to a steady string of sexual advances," The Guardian reports. The night after the initial business meeting, Trump and Harth had dinner at the Plaza Hotel's Oak Room, where he allegedly groped her under the table.
In January 1993, when Harth and Houraney visited Mar-a-Lago, Trump's Florida estate, he allegedly pulled her into one of his children's bedrooms, pushed her up against the wall, groped her, and tried to get under her dress again. Harth has accused him of "attempted rape," while Trump has called the allegations "meritless."
Raping Ex-Wife Ivana, But Not in the "Criminal Sense"
The 1993 book Lost Tycoon: The Many Lives of Donald J. Trump revealed that, in depositions for their contentious divorce case, Ivana Trump accused her then-husband of rape. The Daily Beast reported that, in the book, Harry Hurt III wrote that Trump confronted Ivana after a painful scalp reduction surgery to reduce his bald spot. He allegedly yelled that her "fucking doctor" ruined him, and then held back her arms and pulled out fistfuls of hair from Ivana's scalp, before ripping off her clothes and forcing his penis inside her.
Trump previously denied the allegation, including the scalp surgery. "It's obviously false," Donald Trump reportedly said in 1993. "It's incorrect and done by a guy without much talent … He is a guy that is an unattractive guy who is a vindictive and jealous person." Trump's legal counsel told the Daily Beast that Ivana was talking about how "she felt raped emotionally … She was not referring to it [as] a criminal matter, and not in its literal sense, though there's many literal senses to the word."
Slut-Shaming Former Miss Universe Alicia Machado
Alicia Machado won Trump's Miss Universe pageant in 1996, and he has since called her "Miss Housekeeping" (because she is Venezuelan) and "Miss Piggy" (because she gained too much weight, in his opinion). After Machado became a talking point in his election for president, Trump took the extra step of publicly slut-shaming her. In a series of 5 a.m. tweets, Trump accused Machado of having a sex tape — which he urged voters to "check out."
Sexually Harassing a Woman During the 1993 White House Correspondents' Dinner
When Vanity Fair editor Graydon Carter invited Trump to the White House Correspondents' Dinner in 1993 as a "novelty guest," he allegedly got more than he bargained for. Forty-five minutes after Trump sat down next to Swedish model Vendela Kirsebom, Carter claims she came over to his table, almost in tears, begging him to move her. "It seems that Trump had spent his entire time with her assaying the 'tits' and legs of the other female guests and asking how they measured up to those of other women, including his wife," Carter wrote. '"He is,' she told me, in words that seemed familiar, 'the most vulgar man I have ever met.'"
Mistreating His Female Employees
An ongoing investigation by USA Today into the 4,000-plus lawsuits against Trump found that at least 20 separate lawsuits accuse the presidential candidate and managers of his companies "of discriminating against women, ignoring sexual harassment complaints and even participating in the harassment themselves."
Trump was not directly involved in all of the lawsuits, which ranged in severity, but in one, he was accused of directing a female supervisor at a golf club to hire more attractive women. "I want you to get some good-looking hostesses here," Trump told Sue Kwiatkowski, a supervisor at the club, according to USA Today. Kwiatkowski also alleged that he said, "People like to see good-looking people when they come in."
In another lawsuit, a waitress alleged that Trump repeatedly flirted with her. USA Today also discovered at least three lawsuits in which women claimed they lost their jobs at a Trump company for complaining about sexual discrimination or harassment at work.
Bragging About Grabbing Women by Their Pussies
Trump was caught on tape bragging to former Access Hollywood host Billy Bush about sexually assaulting women. The lewd conversation took place while the men were visiting the set of Days of Our Lives in 2005. Trump was caught talking about a failed attempt to seduce a married woman (later revealed to be former Access host Nancy O'Dell), saying, "I moved on her like a bitch, but I couldn't get there. And she was married."
The men were then distracted by actress Arianne Zucker, prompting Trump to declare that he was going to use some Tic Tacs in case he started kissing her. "You know I'm automatically attracted to beautiful — I just start kissing them. It's like a magnet. Just kiss. I don't even wait. And when you're a star they let you do it," Trump says. "You can do anything. Grab them by the pussy. You can do anything."
Trying to Get Nancy O'Dell Fired for Being Pregnant
Trump has been accused of trying to get Nancy O'Dell fired from her job as a host for the Miss USA pageant after she rejected his advances (as detailed in the Access Hollywood tape), according to the Daily Beast. Trump allegedly did not like the way she looked in 2007, since O'Dell was several months pregnant and thereby not living up to Trump's standards of appearance. However, O'Dell was under contract with NBC, and the network opted to keep her in place as a host, much to Trump's chagrin.
Raping a 13-Year-Old at Jeffrey Epstein's Apartment
A woman has accused Trump of raping her in 1994 when she was just 13 years old, according to BuzzFeed News. Trump has "vehemently denied the rape claims, which are being filed in a New York civil court for the third time," BuzzFeed News reported. According to the suit, Trump allegedly had forcible sex with the plaintiff during a party at the New York City apartment of Jeffrey Epstein, a convicted pedophile who is a billionaire. In June 2016, Jezebel reported that the coverage of the lawsuit was "the culmination of an almost year-long campaign to quietly push these allegations into the public discussion, and maybe make some money in the process."
Hiring Women Based on Appearances
Trump gave writer Mark Singer a tour of Mar-a-Lago for an article in The New Yorker in 1997. Singer wrote that Trump introduced him to the property's resident physician, Dr. Ginger Lea Southall. When she was out of earshot, Singer asked Trump where Southall had been trained.
Trump replied, "I'm not sure. Baywatch Medical School? Does that sound right? I'll tell you the truth. Once I saw Dr. Ginger's photograph, I didn't really need to look at her résumé or anyone else's. Are you asking, 'Did we hire her because she'd trained at Mount Sinai for fifteen years?' The answer is no. And I'll tell you why: because by the time she's spent fifteen years at Mount Sinai, we don't want to look at her."
Groping a Woman at a Manhattan Nightclub
Kristin Anderson, who worked as a model and makeup artist in New York in the early 1990s, told the Washington Post that Donald Trump groped her when she found herself sitting next to him on a couch at a Manhattan nightclub. "It wasn't a sexual come-on. I don't know why he did it. It was like just to prove that he could do it, and nothing would happen," she told the Post. "There was zero conversation. We didn't even really look at each other. It was very random, very nonchalant on his part."
Anderson said she was motivated to come forward with her story after seeing the Access Hollywood tape in which Trump bragged about sexual assaulting women. "I watched this woman — who could have been me; it could have been anyone — walk in and shake his hand," she said. "That was just nauseating, because she has no idea what she was walking into, and what could possibly happen to her. And that's just wrong."
Groping and Kissing a Former Apprentice Contestant

Summer Zervos, a contestant on the fifth season of The Apprentice, says she was both kissed and groped by Trump after her run on the show was over and she was discussing possible employment opportunities with him. She alleges that he had her meet him at his bungalow in the Beverly Hills Hotel, where he kissed her, groped her, and thrust his genitals at her. Because she was up for employment within his organization, Zervos says "I wondered if the sexual behavior was some kind of test, or whether or not I had passed."

She came forward after seeing the other allegations against Trump in a press conference with famed attorney Gloria Allred. When a reporter asked what she hoped would come from the allegations, Zervos responded, "I want to be able to sleep when I'm 70 at night."
Kissing a Mar-a-Lago Guest at a Mother's Day Brunch
Cathy Heller and her family were enjoying a Mother's Day brunch at the Mar-a-Lago Club when Trump came by to introduce himself. According to Heller, Trump aggressively kissed her in front of her family — including three children and various in-laws — and other members of the club after a brief introduction.
Trump didn't stop at shaking Heller's hand. "He took my hand, and grabbed me, and went for the lips," she told The Guardian.
Alarmed, she said she leaned backwards to avoid him and almost lost her balance. "And he said, 'Oh, come on.' He was strong. And he grabbed me and went for my mouth and went for my lips." She turned her head, she claims, and Trump planted a kiss on the side of her mouth. "He kept me there for a little too long," Heller said. "And then he just walked away."
"I was angry and shaken," she continued. "He was pissed. He couldn't believe a woman would pass up the opportunity." She added that he seemed to feel "entitled" to kiss her.
The Guardian interviewed a relative who was present at the brunch, as well as a friend whom Keller had told about the incident well before the 2005 tape was released.

Groping a Woman Outside the 1998 U.S. Open Tennis Championship
During a press conference with attorney Gloria Allred, Karena Virginia told reporters she was standing outside the 1998 U.S. Open Tennis Championship in Flushing, Queens, waiting for a car to take her home when Donald Trump approached her. She said she knew who he was, but she'd never met him.
"I was quite surprised when I overheard him talking to the other men about me," Virginia said. "He said, 'Hey, look at this one; we haven't seen her before. Look at those legs,' as though I was an object rather than a person. He then walked up to me and reached his right arm and grabbed my right arm. Then his hand touched the right inside of my breast. I was in shock. I flinched. 'Don't you know who I am? Don't you know who I am?' That's what he said to me. I felt intimidated, and I felt powerless. Then my car pulled up and I got in." She was 27 at the time.
According to Allred, Virginia is not considering a lawsuit against Trump at this time. She said she hesitated to speak up for fear Trump would call her a liar or "just another 'nasty woman,'" but in the end the Access Hollywood tape and Trump's own denial of his history of sexual assault prompted her to speak up.
Groping Miss Finland in 2006 Before Appearing With Her on the Late Show With David Letterman
Ninni Laaksonen claimed on October 27 that Donald Trump grabbed her bottom in New York in 2006, shortly after she was crowned Miss Finland, the Telegraph reports. After being contacted by local paper Ilta-Sanomat, Laaksonen said Trump groped her moments before she was set to appear on the Late Show With David Letterman, alongside Trump himself and three other contestants.
"Before the show we were photographed outside the building," Laaksonen said. "Trump stood right next to me and suddenly he squeezed by butt. He really grabbed by butt. I don't think anybody saw it but I flinched and thought: 'What is happening?'"
Laaksonen also revealed that she attended parties with the other contestants as well as Trump's wife, Melania. She said someone told her that Trump liked her because she "looked like Melania when she was younger."
We will update this post as we learn of additional accusations.