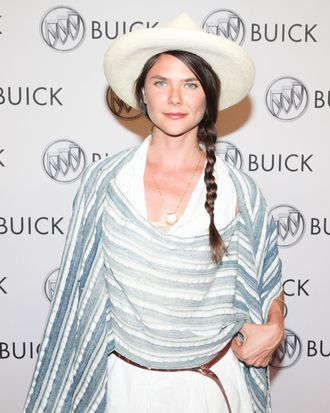 Amanda Chantal Bacon and her chapeau
Photo: Nancy Gomez/BFA.com
Amanda Chantal Bacon — proprietor of the Moon Juice empire, foe to Father John Misty, and mother to Rohan (4) — is the newest subject in Man Repeller's recurring "LA Closets" feature. If you guessed that I clicked on it quicker than you can say "adaptogenic mushroom," you would be correct. And Bacon, as ever, does not disappoint.

Listening to her describe her (extremely beautiful) wardrobe is like a chilled-out sartorial version of her now-infamous food diary. Go ahead and hit play on your old whale songs CD and repeat these quotes over and over until you feel calm:

"It's kind of a Frida Kahlo-librarian vibe."

"Everything is handmade by Tibetan monks and is of the most divine quality."

"My other favorite move is to weave yoga clothes into the work day and pretend like it's not happening."

"It's funny how many people have asked about where my wooden bracelet is from: my kid goes to a Waldorf School, he makes me some rad jewelry."

"Raw silk has such a chic look and feel, but I'm literally floating in nighties all day."

"There is nothing that can't be conquered in a white linen flowing dress, NOTHING!"

Praise Gaia. Never change, Amanda Chantal Bacon. Never change!