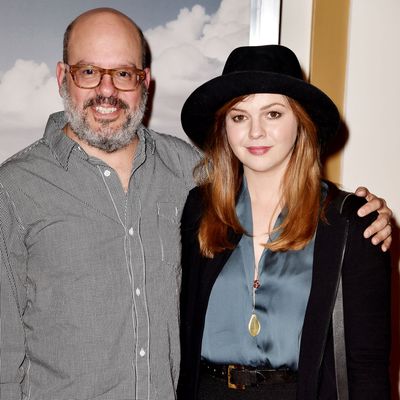 David Cross and Amber Tamblyn.
Photo: Kevin Winter/Getty Images
Amber Tamblyn skipped the typical pregnancy announcement of today's world (the Facebook ultrasound post) and instead revealed she was expecting her first child with husband David Cross in an essay about why she's voting for Hillary Clinton.
In an essay for Glamour, the 33-year-old actress and poet wrote that as a first-time expectant mother (there's the low-key reveal!) of a daughter (another detail!), she is constantly thinking about the world she's bringing her child into. The actress recently shared her harrowing story of sexual assault after Donald Trump bragged about grabbing women by the pussies. She wrote in the essay that her mother had also been assaulted, and that she wanted to protect her daughter from "inheriting this pain" by voting for Clinton. She wrote:
"Hillary Clinton is a mom. She's also a daughter. She's also a grandmother. I have wondered what kind of conversations she's had to have with her daughter about men, or what conversations Hillary's mother had to have with her about boys? When people tell me they dislike Hillary not because she's a woman but because of her record alone, I think, "How can you be sure?" I don't think anyone can be."
Tamblyn continued, "I'll be voting for a future for my daughter where conversations about our bodies and our lives are broader than what value they have for men." She added that in voting for Clinton, she is also voting for a future where the girl can say "Donald who?" and "think nothing is revolutionary about becoming president."
Perhaps we'll hear about the birth in an essay about the election results.