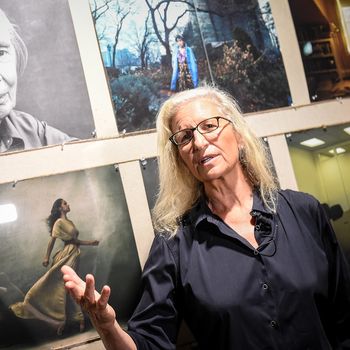 Annie Leibovitz's "Women: New Portraits" comes to New York next month.
Photo: Matteo Valle/Getty Images for UBS
For a new all-women photography exhibit coming to New York next month, Annie Leibovitz shot portraits of female leaders at work: Serena and Venus Williams, Gloria Steinem, Elizabeth Warren, Shonda Rhimes on set, Jane Goodall, Misty Copeland on pointe, Malala Yousafzai, Adele at her piano, Katie Ledecky in the pool, and Lena Dunham, among others.
"The imagery of women has to catch up with the imagery of men," Leibovitz told the New York Times of "Women: New Portraits," a roving exhibit commissioned by UBS that opens in Frankfurt next week. The photographs continue her 1999 project, Women, a book she published with her late partner Susan Sontag that she considered unfinished. "Women are a work in progress," she said. "To my dying day, I'll be doing these photographs."
Seventeen years after Women, Leibovitz said she found more female executives and noticed more confidence among the women she photographed. "We were looking hard in 1999 for women CEOs and women who ran companies — we shot Carly Fiorina. … Now, it seems that there really are many more women in high positions. It seemed like issues were more in the forefront."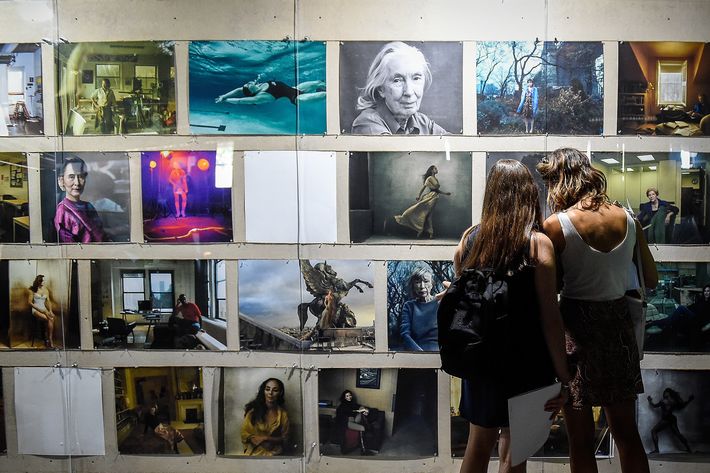 In January, Leibovitz and Gloria Steinem launched an international tour to ten cities, where they presented the portraits in pop-up exhibitions at historical sites with "talking circles" led by Steinem about women's issues, like the female Silicon Valley experience and sexual violence in Mexico City. In each city, Leibovitz added more photographs to the exhibit.
In New York, the exhibit will open in the former Manhattan women's prison, the Bayview Correctional Facility, which closed after Hurricane Sandy. It will launch the Art Deco building's restoration and transformation into the Women's Building, which will reopen as a center for women's groups and services in 2020.
"Women: New Portraits" will be on view in New York from November 18 through December 11. For the November 18 opening, formerly incarcerated women will lead a discussion about female incarceration and women's rights.