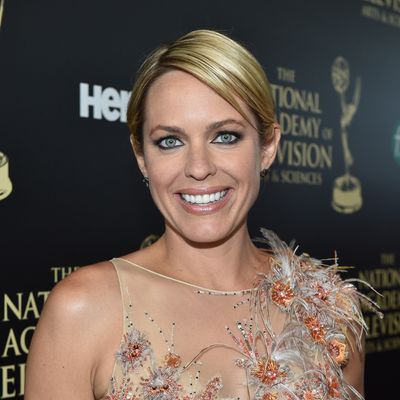 Arianne Zucker.
Photo: Alberto E. Rodriguez/Getty Images for NATAS
A lot of attention has been paid to the comments that Donald Trump made to Billy Bush in a leaked 2005 video where he spoke about groping women and the liberties he thought he was afforded being a celebrity. In the video, published by the Washington Post, Trump references the looks of a particular TV soap actress from Days of Our Lives. That actress, Arianne Zucker, released her own statement about the headline-grabbing video. In a Sunday tweet that linked to her full statement, she said:

"My name is Arianne (R-E-on) ZUCKER (Zooker) and I am a strong, independent, hard working mother, business woman and partner to a great man. I have grown to learn that the words of others cannot effect the value of my self worth or define the content of my character. How we treat one another, whether behind closed doors, locker rooms or face to face, should be done with kindness, dignity and respect. Unfortunately, there are too many people in power who abuse their position and disregard these simple principles and are rewarded for it. In understanding the magnitude of this situation, I choose to stand tall with self respect and use my voice to enrich, inspire and elevate the best of who we are as people".
Her statement came before the second televised event between Trump and Hillary Clinton where the video was the first topic of the night's town hall.