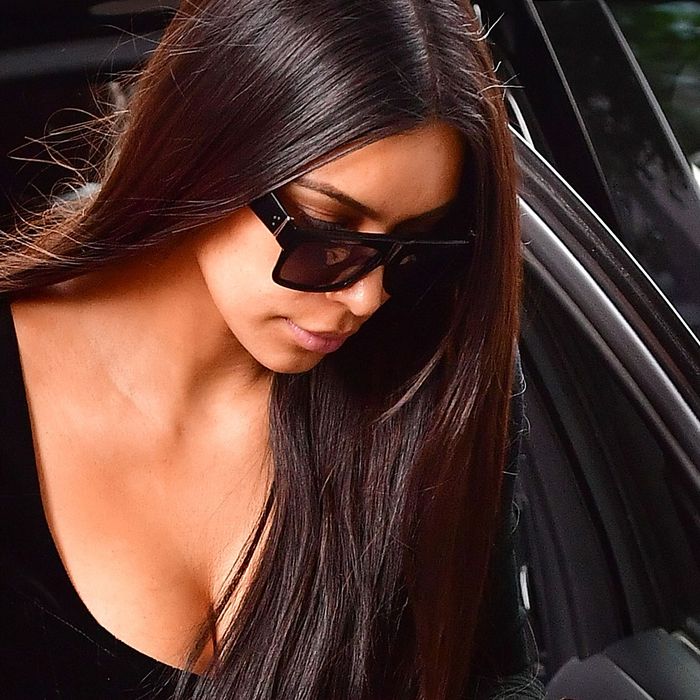 Kim Kardashian.
Photo: James Devaney/GC Images
New details have surfaced regarding the armed robbery of Kim Kardashian in Paris. The series of events took place about two-and-a-half hours after Kim and Kourtney Kardashian were at a Fashion Week dinner just two miles away from their hotel, according to the New York Times. Officials told the Times that there were two men, at least one of whom was armed, who entered Kim Kardashian's residence after having gained access by tying the hotel receptionist's hands. The men apparently wore police-officer shirts in addition to balaclavas and gloves.
Kardashian, who was alone at the time, was bound, gagged, and locked in the bathroom. The men then left with about $9 million worth of jewels. There were also "at least 3 other accomplices," bringing the total to a minimum of five men involved in the heist. Two of the men left on bikes, while the others appear to have left on foot, the Times reports.
Other reports offer more details about the moments after the men entered the flat. A source told People the burglars tied up Kardashian with duck tape around her head and placed a gag in her mouth. She also had her wrists tied together in zip ties and had a gun held to her head the whole time, the source added. In the moment, Kardashian was reportedly hysterical but tried to remain quiet as a way of ensuring her safety, the source added. "She was hysterical but not screaming as she knew she had to keep quiet to survive," the insider said. "The reports of her fear of being raped are real. She really did think she was going to be raped. She had a gun to her head the whole time." She later managed to escape by wringing her hands free from the zip ties and calling for help.

Kanye West joined Kardashian once she was back in New York to help comfort her, though another source also told People he's been left feeling "helpless" about what happened. He's since rescheduled upcoming tour dates for later in the year, presumably to stay with his wife and family. Security has also been noticeably stepped up for the family in New York.