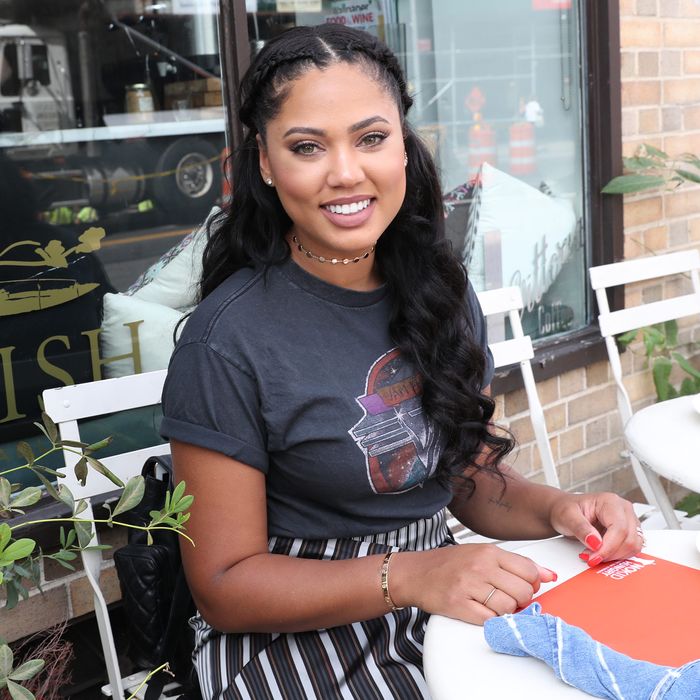 Last month, Ayesha Curry published her first cookbook, The Seasoned Life. This month, her cooking show, Ayesha's Homemade, premieres on the Food Network. Next, she'll launch her own meal-kit delivery company,Gather. And after that, she'll likely turn her San Francisco pop-up into a permanent, brick-and-mortar restaurant. Together, these ambitious projects — a 360-degree approach to dominating the food world — could very likely make Curry America's next culinary sweetheart.
All of this seems sudden, but Curry has dreamt of a career in food for most of her 27 years. "I've always wanted to pen a cookbook," she says over lunch in New York. "I've been jotting down ideas and recipes for years — pages everywhere. Scrap papers and chicken scratch. And I fell asleep every night as a little girl watching the Food Network on my little 12-inch TV." But as her husband, Golden State Warriors guard Stephen Curry, became increasingly famous, and she gave birth to two children in her early 20s, she felt a bit lost at identifying her career path. "It's one of those things where you're like, I wish somebody would have seen this passion, because it has always been there," she says.
Now, Curry is setting the stage to be something like the modern version of a Food Network star, which means navigating a media world that's more fragmented than ever before, while maintaining a strong, seemingly authentic message everywhere. It also isn't enough these days to open a restaurant, or license her name so someone else can open a restaurant; that restaurant has to be good, and avoid the tropes of most celebrity-owned spots. (Curry also has to keep one eye on the increasingly important delivery space.) And Curry has to do that while looking organic, effortless, and relatable (and not like it's "work" at all). "You never want to be throwing things in people's faces," she says. "I just want to make sure that everything I do, I love. And I think I've done a really good job of that so far."
Cookbooks are also still incredibly important. The recipes in The Seasoned Life reflect varied cuisines (Curry's mother is Chinese and Jamaican; her father is Polish and African-American), so if there's a cohesive through-line, it's the importance of family. Her ultimate goal is to make it simple and fun for families to cook together, and she cites Rachael Ray as her mentor because "she incorporates family into everything," and also because, like Curry, Ray never attended culinary school. ("The thing is, you can't learn flavor," Curry says.) And while she could've easily hired a co-writer, or phoned it in, Curry actually wrote every recipe and styled the book's photography herself, so that the food tastes and looks exactly like how she wants it to turn out in people's homes. "I don't want to say I dumbed it down, but I made it very, very easy," she says. Even Steph — who in college once made her "terrible, salty" cream of wheat and garnished it with candy Gushers — can make her five-ingredient pasta.
On one hand, Curry's emerging success in the food industry finally awards her some independence from her husband, allowing her to step out of his shadow. (It was certainly a strategic decision for only her to appear in focus on her book's cover.) "I've never seen people come anywhere just for me," she says, right before her first-ever book signing. "This is me putting myself on the line with something that I did, so I feel like I'm accountable for whatever is going to happen with it. There's been a lot of crying."
But Curry is also embracing and commodifying her perfect-looking family life. Being a "good" and traditional wife and mother is a major part of her appeal. And while she is stepping out on her own, Curry still stands for fairly retro ideas. "At the end of the day, I'm the one at home," she says. "We don't have a chef or anything like that. I'm making sure we're well nourished. Steph does need a certain diet, and it's up to me to make sure he gets it, but I enjoy it. I really do love cooking for him because it's something I have to offer, and I know it makes him happy."

By making her personal life both (even more) public and aspirational, Curry has to walk a fine line. Her fans love hearing about her children — especially Riley, a 4-year-old viral sensation — but she's trying to create some sense of normalcy and protect their privacy. "It's scary because we didn't expect [Riley's popularity] to happen, so that's been a whole learning process in itself," Curry says. "We say no to a lot of requests. Riley goes to school, comes home, we play with her, and keep her out of the spotlight as much as we can. But at the end of the day, she's our child, and we're all about family." Curry says she recently "got in trouble" on Instagram because she photographed Riley on her kitchen counter. "People were like,Why is she sitting there? She's a baby!"
But that's the catch: If your public persona is centered on being wholesome, and, well, "perfect," it's almost impossible to live up to that expectation — something Curry has learned the hard way. "The sports world is so gruesome that I think I've experienced the worst criticism, the best, and whatever is in between," she says. "So I don't feel any pressure to be anyone but myself. If people like it, great, but if they don't, great."