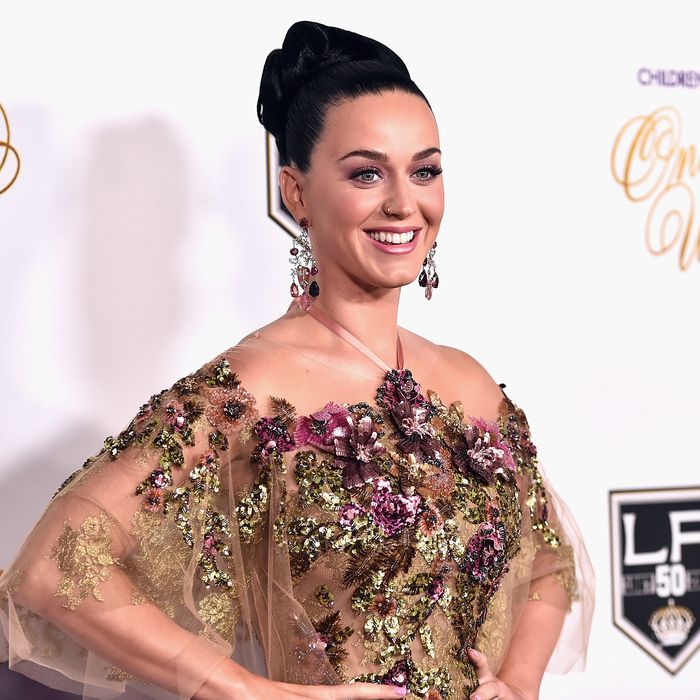 Babies!
Photo: Alberto E. Rodriguez/Getty Images
There is pretty much one thing atop Katy Perry's mind at the moment: babies — cute, cuddly, newborns. Ever since she helped deliver her sister's second child in September (the second time she's done so!), the pop star has been thinking all things baby-related. And, she recently told E! News that children "are becoming a big focus" for her.
"I see the amazing thing of birth and children and the vulnerability and we just have to take care of them and how, how big of an impression we have," Perry told E! News. "We have such a responsibility!" She added, "Children to me are becoming a big focus. I don't even have mine but I see it in my sister's kids and just how much nurturing and love they need … "
Hmm. Perry's currently dating Orlando Bloom, who's been rumored to really be excited about taking their relationship to the next level. A source told E! that he also wants to pop the question soon enough and that Perry has likewise always wanted to start a family. Bloom, who has a 5-year-old with his ex-wife, Miranda Kerr, has also reportedly been talking about growing a family with Perry. Regardless, though, of whether there's a ring or baby bump in the near future for Perry, one thing is certain: She has her sister's lovely newborn she can play doting aunt to.