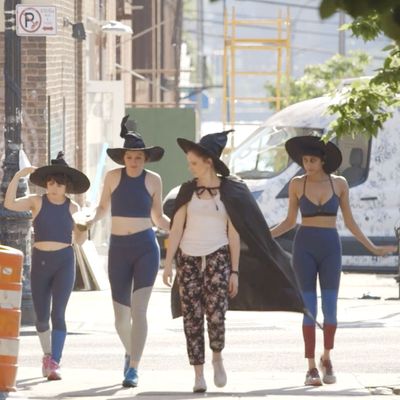 Basic witches in the big city.
Photo: Courtesy of Vimeo/Basic Witch
There are already plenty of depictions of the 20-something woman in New York City today. There's the brilliant Abbi and Ilana; Hannah Horvath and her merry band of misfit white women; that sitcom about broke girls. But this Halloween, a new web series is coming at that well-worn trope from a new angle, showing us what it's like to be a Basic Witch in the big city.
The "dark magic" comedy follows Penelope, a 20-something witch in New York City, trying to navigate life as a real estate broker and binge-watcher of cooking shows. Like the rest of us, Penelope (played by co-creator Jessica Frey) has to deal with annoying roommates, cat-calling construction workers, and male-dominated workplaces. Also, she's a witch.
In one episode, Penelope wakes up next to her wrinkled witch hat and takes it into the shower with her to steam it out. Meanwhile, her roommate won't give her any space in the bathroom, and tries and fails to find the P.C. way to actually talk to her while she's bathing. "I'm just trying to be respectful and all that, and I'm just trying to learn," he says. In another episode, while she's on the way to buy cigarettes, Penelope has to try to get around a pack of basic witches in athleisure outfits as they drink green juices and talk about nose jobs.
The show, which launched on October 31, is a good way to break from being outraged by offensive Halloween costumes today. Check out the first episode below, and the rest here.