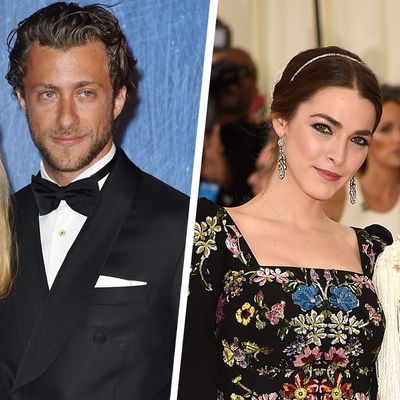 L to R: Franca Sozzani, Francesco Carrozzini, Bee Shaffer, Anna Wintour.
Photo: Getty Images
With all due respect to the New York Times' Vows column and happily betrothed spouses everywhere, there is no greater matrimonial-related pleasure than reading about a Vogue wedding. The unabashed excess, the name-dropping, the bonkers quotes ("It truly was this Burning Man meets chic Hamptons garden soirée with Hawaiian bonfire and bluegrass music lovefest") are so consistently outrageous, it's a wonder there hasn't been a Pulitzer category created for them yet. And so, it's with eagerness for the Platonic ideal Vogue wedding that could be, that we hope that this gossip about Bee Shaffer and Francesco Carrozzini is true.

According to a "fashion insider" speaking to "Page Six," "Bee and Francesco have been together for a while." They share one strong connection: Shaffer is Anna Wintour's daughter, while Carrozzini's mother is Franca Sozzani, the editor-in-chief of Vogue Italia. (Sozzani had previously dated Lana Del Rey.)

I'll go ahead and set a Google Alert for this potential 2019 column now.