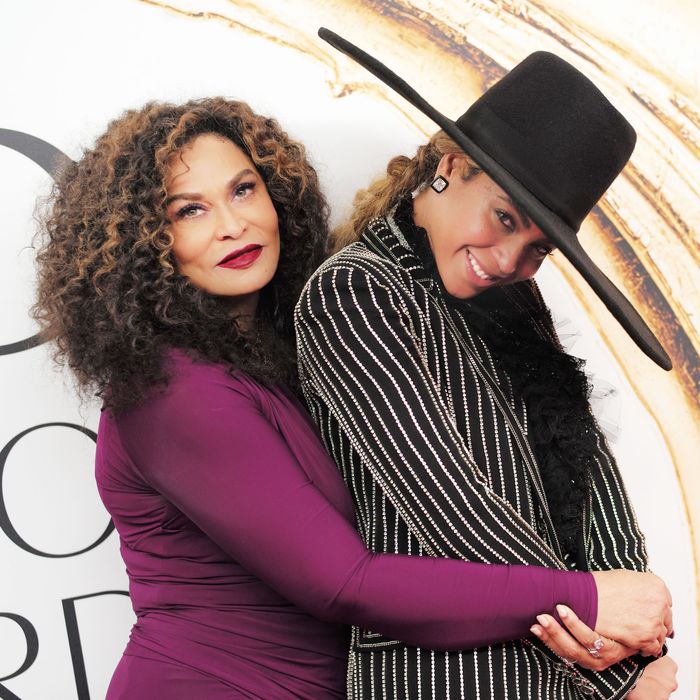 Tina Lawson and Beyoncé.
Photo: David X Prutting/BFA.com
On the weekend before Halloween, Beyoncé got the Carter family to dress up in the memorable looks from the music video for Salt-N-Pepa's 1980s hit "Push It." Instagram photos from the birthday party for Beyoncé's cousin had already showed Bey paying tribute to the first all-female rap group, Salt-N-Pepa. It wasn't until Sunday night, though, that it became clear she wasn't the only one doing so.

Beyoncé and Blue Ivy wore matching leather jackets that were almost exact replicas of those worn by Salt-N-Pepa in the music video. The jackets had the same phrasing — "idol maker"on one side and "let it be music" on the other. Bey and Blue Ivy's jackets also referenced their names with the initial "B" on the sleeves, much like Salt-N-Pepa had the first letter of their names on their jackets (such details!). Mama Tina Lawson and Jay Z also played the part with their own colorful leather jackets and chunky gold chains reminiscent of the '80s (the theme was, after all, the '80s and '90s).
The family costumes mark the second year in a row that the Carters have brought their A-game to a theme party. For last year's Halloween, Bey, Jay Z, and Blue Ivy dressed up as characters from Eddie Murphy's 1988 movie Coming to America. Maybe next year they'll tackle the '90s?

Check out Beyoncé's recap from the night: