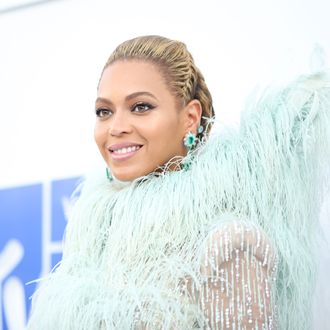 All hail Beyoncé.
Photo: David X Prutting/BFA.com
The equalizing power of Instagram is that, at some point or another, it drives most to drop poorly masked hints about things they covet. But while you might post a photo of a cool leather jacket you want and tag your boyfriend "just as a joke!," Beyoncé posts photos of herself immortalized in plastic, perhaps in the hopes that an international toy company will heed her not-so-subtle requests.
The two photos were lifted from the Instagram account @barbiebeyoncelife, a two-week-old account helmed by a crafty artisan who has documented the creation of several Beyoncé dolls since its launch. Of course, Beyoncé was already immortalized by the Mattel gods several years ago. Before that, Hasboro did the same. Unfortunately, both creations were trash. Maybe this is Beyoncé's way of saying both companies need to revisit the idea. Or maybe Blue Ivy just wants a new doll.