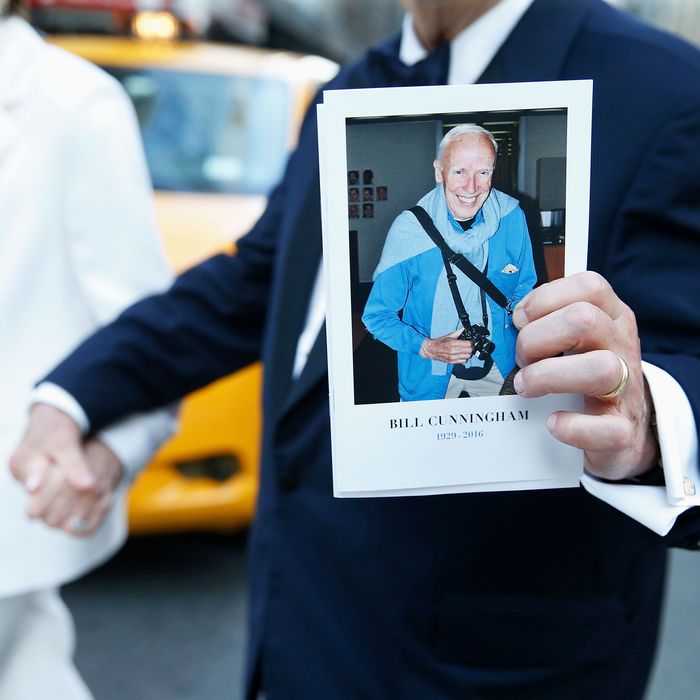 Photo: John Lamparski/Getty Images
It has been six months since the death of Bill Cunningham, a man who lived a remarkably monkish life right in the center of New York's least monkish quarters. He was a figure of tremendous affection, and intrigue, for his unusual lifestyle and affect, as well as for his lifelong, single-minded passion for his work. He was also remarkably kind, and generous, and pure of intention. He was fashion clergy of the highest order.
There was a memorial for him on Monday at Carnegie Hall, where he'd lived most of his life in a tiny cell in a small room above the theater, sleeping on a piece of plywood propped up on milk crates surrounded by overflowing file cabinets stuffed with his pictures. (He had to leave in 2011, when the trustees of Carnegie Hall voted to make room for educational programs instead. Sandy Weill talked about looking for an apartment that would satisfy Cunningham when he had to move out: Cunningham's requests were that it not be bigger than what he already had, and that it have a shared bathroom down the hall.)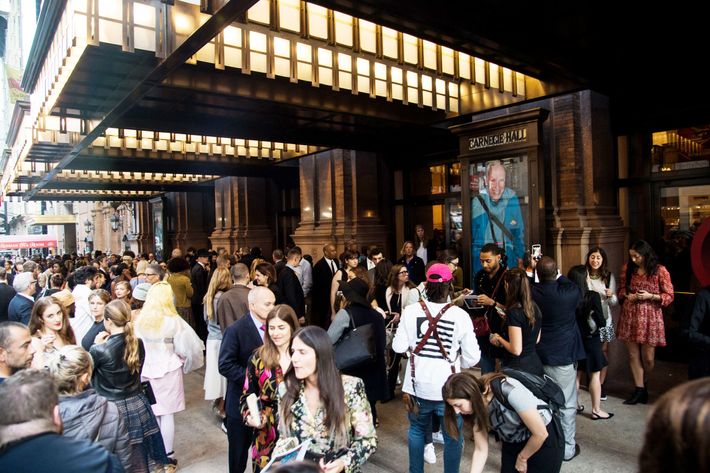 At the memorial, Anna Wintour read a sweetly sad poem by Lord Byron ("So We'll Go No More a Roving") and Cunningham's longtime right hand and best friend John Kurdewan described the sheer volume of photographs Cunningham would produce during his 10- to 12-hour sessions, which happened seven days a week, except for the moments when he'd slip away to the Frick, where the staff kept a secret closet for him to store his blue jacket and his great friend Heidi Rosenau would tell him stories about the Jazz Age lawn party at Governors Island (she spoke, too, wearing an antique getup that involved a matching sweater and beret). Sometimes he'd pause long enough to ride the train up to Boston to admire the hanging nasturtiums in the courtyard at the Isabella Stewart Gardner Museum, a place he credits with offering him his first truly aesthetic experience, which happened when he was 7 years old. He looked around, explained the museum's former director Anne Hawley, and in the middle of all that beauty, life made sense.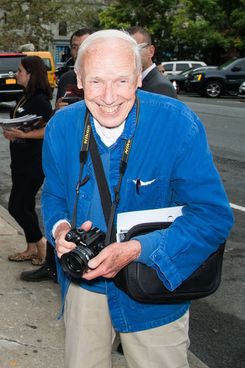 That Bill was a beloved figure is well-known; it is also well-known that his unusual lifestyle and ascetic tendencies made him an object of tremendous fascination. Diana DiMenna, a friend of Bill's, described New York as an island of broken toys, a world in which everyone is "too" something for their home (too loud, too masculine, too feminine, and so on), and so they had to come here. That's probably more true of the fashion business than anywhere else, and it was certainly true of Cunningham, and of many of his greatest muses.
But what was interesting yesterday was hearing some of the city's biggest machers describe Bill Cunningham as a philanthropist; here were Joan Weill, William Rudin, Michael Bloomberg, and Vartan Gregorian describing what a big impact Cunningham's work had on the charities he covered: how he elevated the cause of Gregorian's library by promoting its parties, how many small charitable organizations found themselves legitimized by their presence on his pages, how this could impact their fundraising, and how this, in turn, would impact New York.
There's been a lot of talk lately about street-style photography and what it means, what value it holds, whether it constitutes "style" or not, all of which is pretty ridiculous. People getting dressed up in order to have their pictures taken cannot, actually, be bad for an industry whose primary objective is to sell clothes. Certainly the current state of the thing Bill Cunningham invented has veered off in a very un-Cunninghamian direction (one of his more famous quotes: "See, if you don't take money, kid, they can't tell you what to do"), but what emerged from his memorial was that Cunningham's spectacular, singular, lifelong project was far more layered than it first appears and that, once again, fashion has a lot more power than we frequently assume.