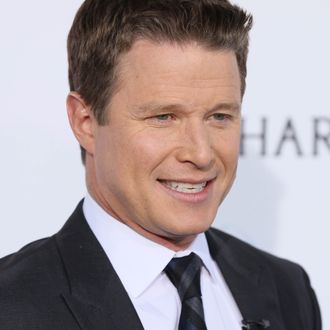 Billy Bush.
Photo: JB Lacroix/WireImage
Billy Bush will reportedly not be returning to NBC, according to CNN's Brian Stelter. Bush was suspended from Today on Sunday after a tape came out featuring a lewd conversation between the former Access Hollywood host and Donald Trump.
"Billy Bush's departure from NBC and the Today show is a matter of when, not a matter of if," Stelter said. "There's negotiations going on between his camp and NBC, trying to figure out how exactly he will exit, but he won't be back on the Today show."
NBC News executives were furious not only about the offensive comments Bush made in the tape, but also that he never revealed the tape's existence before joining Today as a host in May, according to "Page Six." Bush reportedly bragged about the tape existence to NBC staffers at a party in Rio de Janeiro in August while he was covering the Olympics, which prompted staffers to track it down.