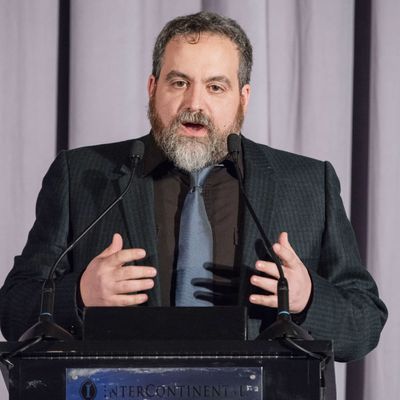 Devin Faraci.
Photo: Latour/Variety/REX/Shutterstock
On Friday and Saturday, Devin Faraci — the editor-in-chief of the popular film blog Birth.Movies.Death and co-host of the podcast The Canon — tweeted out condemnations of Donald Trump after tapes of the Republican candidate bragging about groping women surfaced. Specifically, Trump had boasted that he could "grab them by the pussy," leading Faraci to write, among other things, "I am not wild about dudes #notallmen-ing this Trump pussy grabbing tape."

On Sunday, a woman who tweets as @spacecrone replied to one of Faraci's Trump-related tweets with "quick question: do you remember grabbing me by the pussy and bragging to our friends about it, telling them to smell your fingers?"
He answered, "I do not remember this. I can only believe you and beg forgiveness for having been so vile," and, as of Tuesday, Variety reports that Faraci has stepped down as editor-in-chief, via the following statement:


This weekend allegations were made about my past behavior. Because I take these types of claims seriously I feel my only honorable course of action is to step down from my position as Editor-in-Chief of Birth.Movies.Death. I will use the coming weeks and months to work on becoming a better person who is, I hope, worthy of the trust and loyalty of my friends and readers.

Since Faraci's resignation, @spacecrone has tweeted out a multipart response, writing, "Am I happy all of this had to happen? No. But I am really relieved that something constructive seems to have come of this."