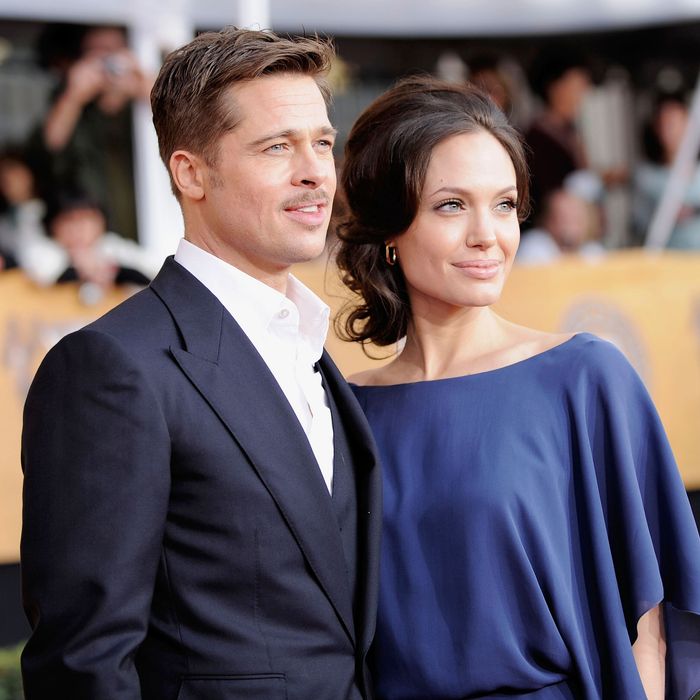 Brad Pitt and Angelina Jolie.
Photo: Kevork Djansezian/Getty Images
Since Angelina Jolie filed for divorce from Brad Pitt three weeks ago, both stars have launched targeted PR offensives against each other. Jolie went through TMZ to break the news that Pitt is under investigation for child abuse stemming from an incident on the family's private plane, and Pitt went through Us Weekly to suggest that Jolie is trying to "destroy" him by exaggerating the abuse claims. Now, in the third round of this potentially never-ending media battle, both actors are trying to act like they are taking the high road. Do you believe them?
TMZ exclusively reported this weekend that the benevolent Jolie does not want Pitt to be prosecuted for the plane incident. Though Pitt allegedly hit the couple's 15-year-old son, Maddox, during a family argument on the plane, sources close to Jolie told TMZ that she will not cooperate with authorities if they try to file charges against him. "Angelina, we're told, has a singular focus … protecting her kids, not punishing Brad," says TMZ.
This week's issue of Us Weekly, however, suggests that Pitt is the one who's taking the high road. In a cover story titled "Inside Brad's SHATTERED WORLD," sources close to Pitt explain that he agreed to let Jolie have temporary physical custody of the couple's six children because that's what's best for them at this time. "Brad Pitt is putting his kids before his pride," the tabloid posits.
Jolie and Pitt have gone from arguing about who's a better parent to who's handling the divorce more gracefully. According to People, the estranged spouses' "divorce negotiations have intensified" in the last week, so they're probably not done battling it out in the press. What petty stories will the tabloids bring us next week?