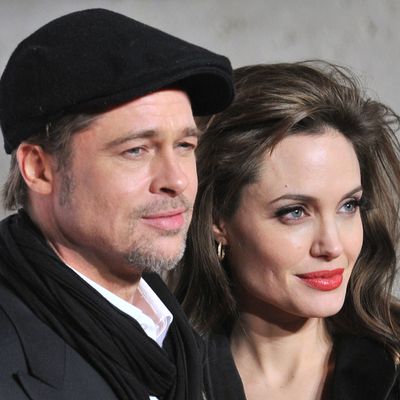 Brad Pitt and Angelina Jolie.
Photo: ALBERTO PIZZOLI/AFP/Getty Images
TMZ reports this morning that Brad Pitt does not plan to answer Angelina Jolie's divorce petition because he does not want to "set the stage for a nasty legal battle." The deadline for him to respond was Wednesday. According to TMZ, Pitt and Jolie still disagree about custody of their six children: Jolie wants sole physical custody, and Pitt wants joint custody. Pitt's inaction shows, however, that the estranged couple may be ready to settle matters privately.
Here's the complicating factor: The Los Angeles Department of Child and Family Services is still investigating the plane incident that reportedly triggered Jolie to file for divorce. Pitt and Jolie agreed to a temporary custody plan set out by the DCFS, but that deal expired yesterday. DCFS could now make further recommendations or potentially close the case. If the department closes the case, Pitt could decide to respond to Jolie's divorce petition because, as TMZ notes, he would be coming from a stronger negotiating position. People, which has largely served as Pitt's PR vehicle since Jolie filed for divorce, reported earlier this week that "no real progress will be made until both parties receive feedback from the DFCS investigation."
There is another sign that the estranged couple may be ready to settle the custody disagreement, however. According to TMZ, Pitt met with son Maddox, who was reportedly involved in the plane incident, for the first time on Wednesday.
"Sources connected with Angelina tell us the two met Wednesday afternoon with a therapist present," TMZ reported yesterday. "There had been a plan in place for Brad and Maddox to reunite a while back, but we're told the therapist felt the timing wasn't right. The sources say Brad has had visits with his five other kids before Wednesday, but the face-to-face with Maddox is a turning point."