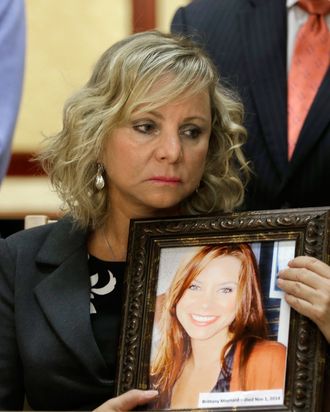 Deborah Ziegler with a picture of Brittany.
Photo: Rich Pedroncelli/AP
Brittany Maynard died on November 1, 2014, on her own terms. The 29-year-old had been diagnosed with a terminal brain tumor earlier that year. Surrounded by her family, as her favorite poem was being read aloud, Brittany took her own life at her rental house in Oregon.
She and her family had relocated to Oregon months prior because of the state's Death With Dignity Act, which allows terminally ill residents to end their lives with lethal medication prescribed by a doctor. In the weeks leading up to her death, Brittany became an outspoken advocate for right-to-die legislation, and a public face of a difficult decision no one would ever want to make.
Her mother, Deborah Ziegler, has written a memoir, Wild and Precious Life, out October 25, detailing her grief, denial, and life with and without Brittany. Shortly before the book was released, however, Brittany's widower Dan Diaz claimed there are inaccuracies in Ziegler's depiction of the last ten months of Brittany's life. In a statement on Facebook, he also said that in her will, Brittany specifically said that only he could tell her life story, not her mother. Diaz wrote: "Deborah's book does not speak for Brittany and there are numerous passages that are inaccurate."
The Cut chatted with Ziegler about why she wrote the book, losing her daughter, and the imperfect ways people deal with denial.
On raising Brittany: I was a single mom for much of her youth, so she and I developed a really close relationship. Sometimes it felt like "you and me against the world," as two females. We even had our little house that we lived in decorated pretty much like a girl house. We had a really close and beautiful relationship. I called her "sweet pea." And of course, she grew old enough that she wanted to stand on her own and support herself. She broke away, as most teenagers do, and went into a rebellious period. I think that any mom that has had a very, very close and protective relationship with their child probably feels that teen period more profoundly.
That was a tough period for us, but we found our way through it and took a different route. But in my heart, I just knew it was right for Brittany, and it turned out to be, thank heavens. During that route, she and I were able to reestablish our relationship on a different level, and in a healthy way. She was able to establish her autonomy probably earlier than most young ladies. It turned out to be, for what was going to happen in her life, the ability to establish that will of self was a good thing. It was a hard thing, but it was a good thing.
On learning of Brittany's tumor: First of all, I think Brittany was able to withstand quite a bit of pain, and this was something that I tried to convey to her doctors. I said, "If Brittany says she was in pain, then she was in pain," because she bore the headaches and the symptoms of the brain tumor for many months — really almost a year, if I look back on it. We all were grasping at what could be causing this, and she did see a doctor.
When I was flying [to Oakland, California, where she was hospitalized], they said there was a shadow on her brain, which is an odd thing to say. It allowed my imagination to wander and softened the blow. They did not have an MRI at the first hospital, so they were going on a different kind of scan that's not as clear. But I allowed the word shadow to keep me from the knowledge that she might even have a brain tumor. I did not accept that at all as I flew there.
We were there several days before Brittany, actually, boldly insisted that the doctor not leave the room and that he address her question ("Have you seen my scans? Can you tell me what's going on?"). Dan, Brittany, [my husband] Gary, and I were all there, and none of us really asked any questions. We were in shock. Brittany is the one that drove the conversation and she was very clear and very specific, and very eyes wide open.
On denial: The denial phase is a really difficult one to deal with. I wrote so painfully about it; I bared my soul, essentially, about my own inability to move forward, and that period of time that I clung to denial and to hope and wishes and dreams, because our society doesn't talk about it that much. When it happens to you, you feel that you're alone. Having read memoirs in the past, I know that when I read someone else's experience, I have on occasion thought, "Wow, I'm not alone, this has happened to someone else. They felt similarly; they made mistakes, just like I'm making. And wow, I'm reading what they did, and I'm not going to make that mistake."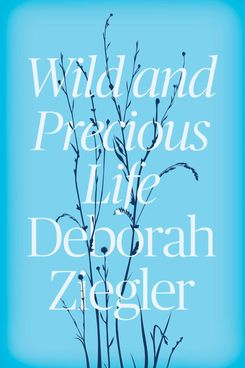 It was for those reasons that I bared my soul and said, look how imperfectly I handled this. For the terminally ill, their plan, no matter what it is, is what doctors and families should focus on. The terminally ill, as they speak and share what they want the plan to be — we need to listen, and that is a hard, hard journey. I don't know any other way to share it then to just show you our imperfect journey.
On writing the memoir: I'm very sure of what Brittany asked of me. I'm very peaceful about the memoir. I know my daughter was a very forthright, no candy-coating type of girl. She was that way with her doctor and with me as her parent. She didn't go for that kind of thing. So, I know that she is proud of me, and that I was going to do what she did, which is to expose your vulnerability in the hope that somewhere, someone will benefit from you being vulnerable. So we share that. I feel very at peace and I feel very good about the fact that she said, "Speak up, mama. Even if your voice shakes, even if it's scary. Speak up for those who can't." And that's a good feeling.
On Diaz's claims: I started loving Brittany the first time she moved inside me. That's 30 years of loving Brittany, talking with Brittany, arguing with Brittany, sharing ideas big and small with Brittany. I think there's value in those 30 years of knowing someone. I also know what she said to me, personally, and that she never wrote or said anything to me that differed, and so I stand on that. I stand on what I know to be true, in my mother's heart.
I don't want to lash out or reply in any negative way, because I think we each have to grieve in our own way. That's one lesson I've learned about grieving — that we all grieve in different ways. There's no right or wrong way to grieve.
On the two years since Brittany's death: First of all, I learned that it's okay to feel all the feelings that you feel, and some of them might feel unacceptable or you feel you need to squish them down or ignore them. But for me, allowing myself to feel them all was good. The second thing I learned was that grief usually brings a gift with it, and that we have to look around and see it, and that it might take us a while to lift our head up and see through the tears.
Brittany left me a gift: In almost everything she wrote and said, she told me to go to Machu Picchu, which frankly sounded to this middle aged woman like a rather odd request. I'm 60, my husband is over 70. I often wondered why she was so adamant about it. But I followed that request and I was rewarded with peace and I was rewarded with a greater understanding and I was rewarded with a new zest for life.
Now every time I feel a big wave of grief hit me and knock me — they can come for years and years afterwards, and it almost will knock you down to your knees. Sometimes I literally have dropped to my knees. But when I feel that I think, what am I supposed to see? What am I supposed to learn? Usually the answer is: Get off your knees and plan something and go do something, and make the world a better place or have an adventure or go meet someone new or go see how other people live. And that's the message that I get. But I must say, that didn't happen to me for about a year. Maybe there are some people who do it faster than me.
This interview has been edited and condensed.