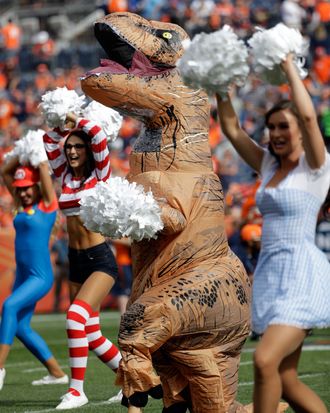 Inflatable T-Rex costumes are having a moment: First there was the American Ninja Warrior T-Rex, then the homecoming-queen T-Rex, and now, bringing the trend to its logical next step, the NFL-cheerleader T-Rex.

Romi Bean — Denver Broncos cheerleader and sports-radio host — took the field on Sunday during her team's game against the Chargers, and executed her routine wearing said T-Rex costume. Her fellow cheerleaders were also wearing their Halloween finest, though most chose to go with outfits like Sexy Waldo and Sexy Mario.

After watching Bean in action, one thing becomes strikingly clear: All cheerleader's uniforms should be replaced with inflatable T-Rex costumes. Football players too. Come to think of it, this should be everyone's go-to look.