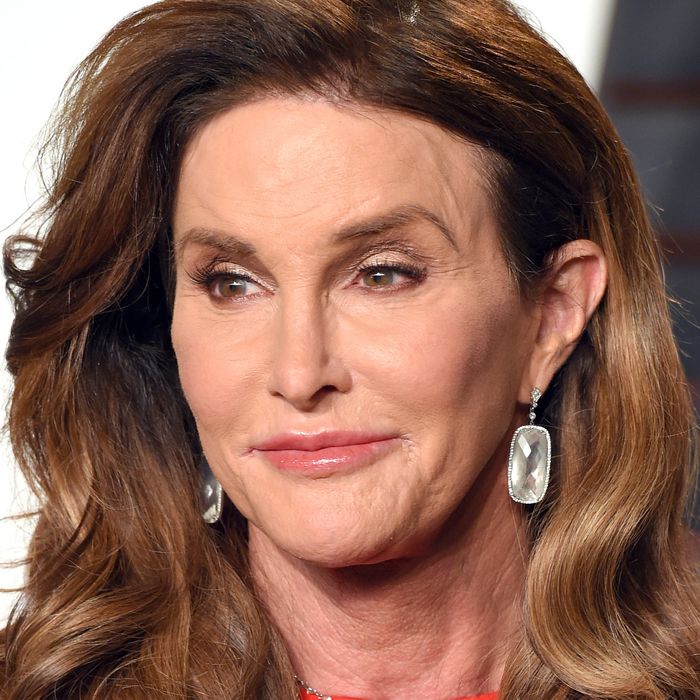 Caitlyn Jenner.
Photo: Karwai Tang/Getty Images
It's been a bit quiet across the social-media channels of the Kardashian-Jenner family. Ever since news broke that Kim Kardashian was robbed at gunpoint in Paris after having been gagged and tied up, she and her family members have not publicly commented on the matter, nor have they shared any of their usual daily updates about their lives. It's a strange turn of events, but one that makes sense given the severity of the incident and the speculation that the robbers may have used Kim's constant social-media updates to their advantage.
The only member of the family to post on social media following the robbery was Caitlyn Jenner — and she was quickly called out for it by fans. On Monday, Jenner posted a photo on Instagram of herself and daughter Kylie Jenner, smiling and posing in front of Jeff Dunham's original Batmobile. The caption for the picture says that they were at the car show on Sunday. Kim Kardashian's robbery is said to have taken place in the wee hours of Monday morning in Paris. Her fans swiftly took to the comments section to call out Caitlyn Jenner for being insensitive to the emotional toll the robbery must have had on Kardashian, according to Us Weekly. According to the tabloid, one user wrote: "How is it that everyone else in your 'family' is respectful enough not to post trivial s–t hours after Kim is bound and gagged at gunpoint but you post pictures of yourself with a car? Super classy."
On Tuesday evening, Caitlyn Jenner shared another photo, this time a black-and-white one of Kim Kardashian. In the caption, she wrote: "Love my girl! After hearing the full story, I'm so thankful she's okay. It's a reminder for us all to be careful in the uncertainty of this world."
The swift and strong reaction to Jenner's two Instagram posts are a reminder of the tricky situation that the Kardashian family is facing. As entrepreneurs who've built their careers off sharing every minute detail of their lives with the public, it's understandable that fans want to hear support from the family. But how to voice that support and when to do so requires treading carefully in murky water. There are already plenty of conspiracy theories about the incident being a ploy for more publicity (even though the cameras weren't filming Keeping Up With the Kardashians). If we judge by the contrasting reactions from the public since the robbery, there's been an overwhelming level of vitriol directed at Kim Kardashian and a passionate level of empathy from her friends and fans. But, as Jenner has already learned, going about one's daily life can also signify an overall disregard for Kardashian's well-being. And that's not a position fans want to see the tight family in.