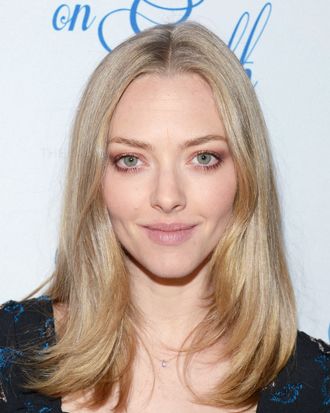 Amanda Seyfried.
Photo: Matt Winkelmeyer/Getty Images for Heaven on Earth
Today Allure published a new profile of my favorite actress, Amanda Seyfried. I was excited to read it to potentially find out new information about Amanda Seyfried, but what I actually learned was how much the author knows about the early-19th-century writer Washington Irving. Here is the profile's lede:
On my way to interview Amanda Seyfried, two hours north of Manhattan and two worlds away, there's a quiet hamlet in the foothills of the Catskill Mountains called Stone Ridge. The names of the country roads—Sawkill, Cottekill, Shivertown—seem to be lifted right out of a Washington Irving story. In fact, the writer's most famous character, Rip Van Winkle, set off on his mysterious day trip not far from this spot. When you hear thunder in the distance, it's hard not to think of it being, as Irving imagined, made by the ghosts of Henry Hudson and his loyal men, those poor lost souls playing ninepins in the mountains. M. Night Shyamalan would be comfortable here; it's a landscape of supernatural legends.
I appreciate scene-setting as much as the next avid consumer of information about two-time MTV Movie Award–winning actress Amanda Seyfried, but please. Can you tell me more about Amanda Seyfried?
The rest of the profile, which was written by a man named David DeNicolo, wastes a lot of time talking about Seyfried's "Japanese anime" eyes, and how, exactly, she listens to the waitress at the upstate café where the interview takes place ("intently, studiously, as if there will be a quiz").
Why not ask Seyfried about her favorite authors and filmmakers? Or what the foliage in the Catskills conjures in her mind? Or when exactly she started dating her new fiancé Thomas Sadoski, who was, until recently, married to someone else? (Not judging, just curious.)
In conclusion, I would like to know more about Amanda Seyfried.