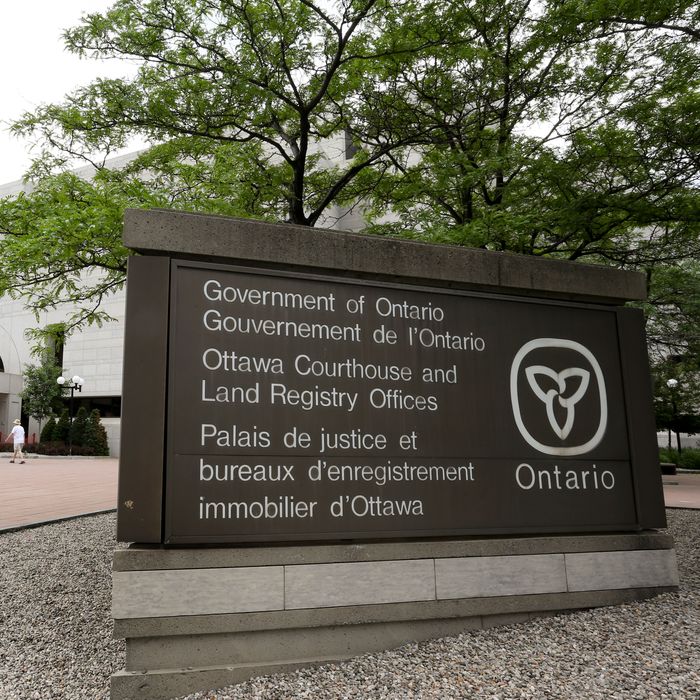 The Ottawa courthouse where Rouschop's case is being tried.
Photo: Richard Lautens/Toronto Star via Getty Images
The lawyer for a Canadian man accused of choking and assaulting two sex workers in 2013 claims that he could not have committed the crimes because his penis is too small.

The two women testified that Jacques Rouschop, who's been registered as a sex offender since 2005, paid them to perform oral sex in the backseat of his truck. One woman said he kept asking her to take off her pants and when she refused, he put her in a chokehold and flipped her on her back, repeatedly asking, "Who's in charge?" She said she couldn't breathe and may have lost consciousness but didn't think she was raped.
The other victim said Rouschop also wanted more than oral sex and after she said no, he put her in a chokehold, pressed his weight on her, and raped her from behind. "I couldn't breathe," she said in court. "I was trying to get free but I couldn't. … I thought I was going to die."
Rouschop's lawyer argued that he couldn't have penetrated the woman from behind because he has a large hernia which would have made that painful. Plus, his stomach is too big and his penis is "way, way too small." The accused is five-foot-six and exceeded the weight of the scale at a jail, which tops out at 320 pounds. A nurse testified that Rouschop's waist measures 66 inches and his penis is one inch, two when erect. His lawyer showed naked photos of her client to the jury and argued that he paid sex workers to fulfill his needs, but did not assault them.

The aggravated-sexual-assault charges against Rouschop stem from an investigation of the 2013 murder of sex worker Amy Paul. The judge allowed the prosecution to detail how Ottawa police searched the defendant's home. He was a prime suspect but was never charged and the murder remains unsolved. Rouschop goes back on the stand today.