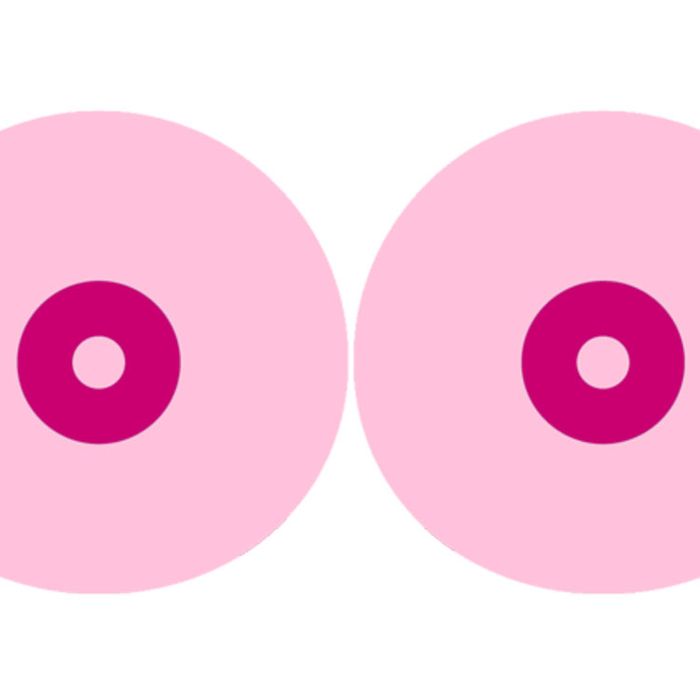 The extremely offensive illustration.
Photo: Courtesy of Cancerfonden
Before 2014, Facebook removed photos of women breastfeeding and just last week, it blocked an image of a mammogram. Now, a Swedish cancer group says that Facebook removed an animated video that showed people how to do a self-exam to check for suspicious lumps. It seems even cartoon nipples are not allowed on social media.

The video is still on Instagram despite the app's draconian nipple rules. Seriously, who flagged this as offensive?

The group said it was unable to get through to Facebook, perhaps after the post was initially flagged, and will ask Facebook to reinstate the video.
Cancerfonden communications director Lena Biornstad told Agence France-Presse: "We find it incomprehensible and strange how one can perceive medical information as offensive. This is information that saves lives, which is important for us. This prevents us from doing so."
Cancerfonden shared an updated image on Facebook, writing, "Now we have arrived at a solution which hopefully will make you happy." The breasts are now squares with smaller, darker squares for nipples. Good luck to anyone doing self-exams on those boobs.


Update: The images were part of an advertising campaign and Facebook has now approved them. In a statement to the BBC, a spokesperson said:
"We're very sorry, our team processes millions of advertising images each week, and in some instances we incorrectly prohibit ads. This image does not violate our ad policies. We apologise for the error and have let the advertiser know we are approving their ads."
Reps for Cancerfonden told Time that Facebook rejected their ad campaign because it violated the site's advertising policies. They received a message saying, "Your ad cannot market sex products or services nor adult products or services."