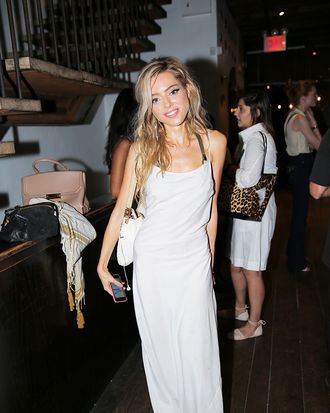 Photo: Diana Zapata/BFA.com/Diana Zapata/BFA.com
Starting in 2011, Cat Marnell worked as the beauty and health director at xoJane, where she quickly made a name for herself by writing candidly about her drug addiction (see: "Gonna Wash That Angel Dust Right Outta My Hair").
In 2012, she tried a stint in rehab, reportedly at the request of Say Media, xoJane's then-owner. Marnell returned for a bit, then left the company shortly after, telling the New York Post, "Look, I couldn't spend another summer meeting deadlines behind a computer at night when I could be on the rooftop of Le Bain looking for shooting stars and smoking angel dust with my friends and writing a book, which is what I'm doing next." (Who among us, etc.)
So what's ol' Cat up to these days? Well, her memoir, How to Murder Your Life, is forthcoming from Simon & Schuster. And, coincidentally, totally coincidentally, Marnell is once more writing for xoJane. In her first post back, she discusses battling addiction while working at Lucky magazine in her mid-20s, moving to her grandmother's basement in Virginia at the age of 27, and returning to New York for her gig at Jane Pratt's newly launched site. She also expresses some remorse for her behavior.
Ugh! I want to reach into the computer and strangle my ungrateful, bratty, former self with my own stupid rosary. The bitterness! The arrogance! The ego. And don't get me started on how I treated people in the office.

So while I was being praised over and over again in the press for my "unflinching honesty," the truth was, I was controlling my image the whole time. I was an abusive, manipulative, entitled asshole who worked one thousand times less than everyone else, collected salary without coming into the office, was high on PCP constantly … and yet got hugely and wildly rewarded for it because I was good at making myself look like a cool rebel in the press.

Sounds like that's all water under the bridge, though."Cat and I have stayed friends and have always wanted to work together again. I'm thrilled that she is in such a good place now and that we have a chance to work together again under better circumstances. Having her on board as a Contributing Editor is a dream," Jane Pratt wrote in a statement to the Cut. "No one writes like Cat. And her lifestyle change has been really impressive to watch too. Now we run into each other at Gyrotonic classes or Barry's Bootcamp, which is definitely not where she was hanging out the last time she worked with me!"
As for what's next, per an editor, the site will be running posts from Marnell on beauty and "other topics" on an on-going basis — or, as Marnell promises, the "usual bimbo-y mascara-Riff Raff-and nightclubs posts or whatever."